Hiroshima, Japan — A powerful earthquake convulsed southwestern Japan on Saturday, buckling roads, snapping power lines, damaging houses and killing two people with falling debris.
The magnitude-6.4 temblor caused damage in five Japanese states and was felt as far away as South Korea, more than 150 miles northwest of the epicenter. The epicenter was located about 40 miles off the coast of the Japanese state of Hiroshima, in the Inland Sea.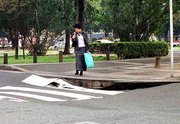 Authorities reported 123 injuries, 12 of them serious, in Hiroshima, and scores more in surrounding states. News reports today said more than 160 people were hurt, but that could not be confirmed.
Broken roof tiles and window shards littered streets in the city of Hiroshima, which has about 1 million people. Thousands of households were left without running water
"Plates fell off shelves and waitresses screamed in panic," said Koji Akimoto, who was sitting in a Hiroshima coffee shop when the mid-afternoon quake hit. "It seemed like an eternity but it only lasted a minute or so."
An 80-year-old woman died in Kure, a city about 12 miles south of Hiroshima, when she was buried under the rubble of a collapsed wall. In nearby Ehime state, a 50-year-old woman fleeing her home in the city of Matsuyama was killed by roof tiles that fell on her head.
The quake struck at 3:28 p.m. near Hiroshima, about 430 miles southwest of Tokyo, the Meteorological Agency said.
In Hiroshima city, the quake set off a fire that burned down one home. Across the state, three houses were completely destroyed and several hundred were damaged.
Japan is one of the world's most earthquake-prone countries, and straddles three tectonic plates, the huge slabs of land that cover the surface of the Earth.
A magnitude-6 quake can seriously damage buildings in a populated area. Saturday's quake was located offshore and relatively deep, which may have lightened its impact.
In October, a magnitude-7.3 earthquake struck a largely rural area in Tottori state. Though at least 120 people were hurt in that quake, no one died. Some 6,000 people died in 1995 when a powerful quake devastated the western Japan port of Kobe.
Copyright 2018 The Associated Press. All rights reserved. This material may not be published, broadcast, rewritten or redistributed. We strive to uphold our values for every story published.