Washington — For a decade natural gas has been the fuel to love. It's clean, plentiful and found close to home. Most importantly, it was cheap.
No longer.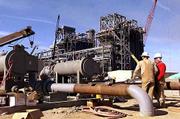 As natural gas prices have soared to as much as five times what they were 18 months ago, consumers from the elderly trying to heat their homes to executives who are shutting down chemical plants because of high gas prices are wondering what happened:
l Are producers profiteering? Maybe. At the very least, they're raking in billions of dollars.
l Will the high costs, which have eased in recent weeks, rebound this summer and into next fall? Supplies remain tight. If the summer is a hot one, prices again could soar.
l Can future production meet growing demand? Most experts say there's plenty of gas; developing it will depend on price and building new pipelines.
l Should the government reimpose price controls? A few advocates say yes; the Bush administration and most economists say no.
Government regulations have produced "a couple of real disasters": gas shortages in the 1970s and a gas "bubble" of too much supply in the early '80s, says Paul MacAvoy, a Yale economist who has followed the industry for 30 years. Despite greater risks of occasional price spikes, MacAvoy argues, a free market provides lower prices and adequate supplies in the long run.
President Bush's energy plan, expected to be unveiled next month, will stress expanding natural gas production and building new pipelines, but experts agree it will be years before those efforts significantly influence the gas market. Demand for the fuel, meanwhile, will continue to rise, especially for generating electricity.
It may be some time, perhaps never, before prices again will be as low as they were during a 15-year period covering the late 1980s and all of the 1990s, energy economists say.
During that stretch the wholesale price of gas hovered about $2 per 1,000 cubic feet. After accounting for inflation, natural gas prices actually declined by almost a third from 1985 to 1999, according to the American Gas Assn.
Then, in the first six months of last year, the price doubled, then doubled again. By Christmas and into the new year it had spiked to nearly $11 for the same 1,000 cubic feet.
It's been even higher in power-starved California, prompting charges of price manipulation by suppliers and pipeline operators.
As the surge in gas prices drove up home heating bills by 50 percent or more in many areas, businesses and industrial plants saw energy costs cut into profits. Some chemical plants using natural gas as a feedstock have seen foreign competitors grab business because of the high U.S. energy costs.
Redland Brick Inc. of Williamsport, Md., has seen the cost of firing up its kilns at four plants soar. An expected energy bill of $4 million is twice what it was in 1999, says James Vinke, the company's president.
In recent weeks, wholesale gas prices have begun to fall back to about half what they were in December and early January, but at $5 per 1,000 cubic feet, they remain more than double what they were in the winter of 1999.
"The length of time that gas prices have remained so high is unprecedented," the government's Energy Information Administration says in its latest energy forecast. It predicted prices would not ease much this year or next.
Energy experts say prices could just as easily spike again if supplies lag and demand jumps during a hot summer or unusually cold weather next winter. Stocks in storage are unusually low for the end of winter, raising some concerns if demand this summer is strong.
"It is becoming clear with each passing month that we grossly underestimated the demand pressure facing natural gas," says Matthew Simmons, a Houston-based investment banker and energy analyst who frequently has warned of an impending natural gas crisis.
Simmons helped craft a National Petroleum Council report at the end of 1999. It predicted that during the next 15 years natural gas demand would increase by 40 percent to 31.5 trillion cubic feet annually. With power plant construction at a fast pace, that demand now could come in five or six years, Simmons says.
While the council, an advisory panel to the government, says that enough gas exists to meet the demand, it warned that production would have to increase dramatically, including in some areas that long have been off limits or restricted for environmental reasons.
Ironically, the report assumed that even with higher demand, prices would stay under $3 per 1,000 cubic feet, saying that was enough of an incentive to spur development.
Natural alternative
Of all fossil fuels, natural gas is a natural.
It is by far the cleanest. Compared to coal and oil, natural gas emits far less smog-causing and toxic air pollution or heat-trapping greenhouse gases when burned. Environmentalists embrace it as the transition from fossil fuels to solar technology or hydrogen fuel cells that are still decades away from wide use.
Natural gas also is plentiful. An estimated 2,449 trillion cubic feet of reserves in the United States and Canada is enough to meet today's demand for 100 years. And there is no worry about cutoffs from unfriendly nations halfway across the globe.
Nevertheless, the price explosion of the last year has prompted more than a few energy experts to wonder, only half jokingly, whether the OPEC oil cartel had captured the natural gas market.
Industry representatives and federal regulators scoff at suggestions of price manipulation and collusion, although the red-hot and severely constrained California market has fueled suspicions of abuses and gamesmanship there. California regulators, for example, argue that pipeline companies have hoarded gas to boost prices, claims the companies heatedly have denied.
Nationally there are thousands of producers, marketers and middlemen. While controls on wholesale prices disappeared entirely in 1989, the federal government still regulates interstate transport while most states regulate retail prices.
"I don't think you can manipulate this market. There just are too many players," says Paul Wilkinson, a vice president of the American Gas Assn., which represents local utilities that are having to deal with both higher wholesale costs and the ire of their retail customers.
Still, the run-up in oil and gas prices produced astounding profits last year.
According to the Energy Department, the 37 leading independent oil and gas companies saw profits in 2000 soar nearly 400 percent to $3.2 billion, most of it from natural gas. Earnings from U.S. oil and gas production among major multinationals jumped 155 percent to $22.2 billion, about half from gas.
Barrett Resources Corp., a Denver-based gas producer, earned $68.1 million last year, more than three times its 1999 income. In recent days its financial strength and its status as a leading lease holder for Rocky Mountain gas fields have made it the target of a hostile $2.2 billion takeover attempt by Shell Oil Co.
Gas marketing companies a group dominated by a handful of giants such as Enron, Duke and Dynegy also have reaped hefty rewards as the commodity often is traded several times as it flows from producer to end consumer.
Enron, based in Houston, reported a 160 percent jump in profits, or $1.6 billion total, in commodity sales and services last year with natural gas the largest and most profitable portion. Its gas transactions jumped 82 percent.
"It's basically economics ... supply and demand," says Paul Holtberg, an analyst at the Gas Technology Institute, a research organization financed by the gas industry.
That view is shared by many economists not associated with the gas industry, but there also are skeptics who contend that the market is rife with manipulation.
Slow to react
How did we get to this?
In the 1990s, the number of gas drilling rigs in operation plummeted. In early 2000 world oil prices took off, but gas producers were reluctant to commit to a boom.
Then prices jumped after a summer of high gasoline prices and a cold winter.
"None of the forecasters predicted such a sharp increase," says Jeff Brown, vice president of Beacon Energy, a consulting firm that tracks gas prices and production activities.
For some, the only explanation is manipulation.
"No one has justified how high prices went this winter," says Jack Hilliard, general manager of a municipally owned utility in Florence, Ala., which in January faced a natural gas bill of $5.4 million, four times what it paid in the same month a year earlier.
"This is very suspicious," he says.
Copyright 2018 The Associated Press. All rights reserved. This material may not be published, broadcast, rewritten or redistributed. We strive to uphold our values for every story published.