London — The supersonic Concorde is still grounded for safety modifications, so Britain's film elite will have to travel on regular planes in first class, of course for the long flight from England to the United States for Oscar night.
But none of the nominees carrying the hopes of British film fans along with their tuxedos, jewels and evening gowns is likely to complain of jet lag when walking up the red carpet on this evening.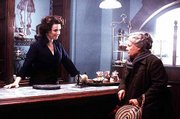 It will be 1:30 a.m. Monday in London when the telecast begins, but hard-core film fans are planning to stay up late to learn the fate of the bumper crop of British nominees, which includes longtime favorites Judi Dench, Albert Finney and Julie Walters and "Gladiator" director Ridley Scott.
The strong British showing is not a surprise in light of strong Oscar-winning performances in the last decade, but nonetheless there is much happiness about the number and quality of British nominees, said Caroline Westbrook, the Oscar columnist at Empire magazine.
"We're always excited to have a lot of nominees," said Westbrook, who plans to stay up for the telecast. "
But whether or not we'll win anything is another matter. It's often the Americans that win in the end, so we're not getting expectations too high."
Like many British film fans, she was disappointed that the low-budget surprise "Billy Elliot" did not win a best picture nomination for its portrayal of a small-town boy with a passion for dancing. That film was a classic example of quirky British filmmaking, she said.
"We're good at triumph-over-adversity films set in poor areas of the country, and we're good at period dramas, and we're good at cloning ourselves, of copying one good film 10 times or so," she said, predicting a rash of dancing movies in the wake of "Billy Elliot."
"Billy Elliot" did win a best director nomination for long-shot Stephen Daldry and a best supporting actress nomination for Walters, but Westbrook does not rate Walters' chances highly because the actress is up against popular newcomer Kate Hudson from "Almost Famous."
Likewise, she expects Dench who won for her brief role in the 1998 film "Shakespeare in Love" to be eclipsed by Hudson, and she does not expect Finney, who burst to international fame four decades ago in "Tom Jones," to win best supporting actor for his role as a gruff, poorly dressed lawyer in "Erin Brockovich."
"I would love to see Finney win, but I think Benicio Del Toro is so popular in 'Traffic' that it's an open-and-shut case for him, and I think he deserves it," she said. "Finney would be my second choice."
The British nominees, realistically expecting most of the limelight to shine on American stars like Julia Roberts and Australia's Russell Crowe, have been engaging in classic British understatement with a welcome touch of self-deprecation in the weeks leading up to the big event.
Finney, who has never achieved the high profile of contemporaries Sean Connery and Michael Caine despite a distinguished stage career and occasional film hits, said he hopes to pick up an Oscar statuette and then get his senior citizens card, which will entitle him to free passage on London buses and subway trains.
And Walters, who was nominated in 1983 for her performance in "Educating Rita," said in TV Times magazine that she does not have the cleavage to wear the Armani gown offered by the designer. She said she does not expect to win but does hope to meet Jack Nicholson and find a way to work with him.
"Of course, it's highly unlikely," she said of her chances.
Copyright 2018 The Lawrence Journal-World. All rights reserved. This material may not be published, broadcast, rewritten or redistributed. We strive to uphold our values for every story published.