Okeechobee, Fla. — The "miracle team" forming around Lionel Tate has to decide whether to ask for clemency or seek to overturn his first-degree murder conviction, attorney Johnnie Cochran said Saturday.
The famed lawyer met with Tate for the first time Saturday at the Okeechobee Juvenile Offenders Center, where the 14-year-old is serving a life sentence for killing 6-year-old Tiffany Eunick in 1999.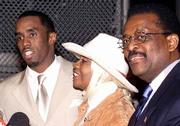 "I don't think this is a first-degree murder case where somebody should get life in prison," said Cochran, standing next to Lionel's mother, Kathleen Grossett-Tate, at the center. "This young man didn't get up on the morning of this incident and plan to kill his friend."
Cochran said Lionel recognized him immediately.
"He was able to identify some of my clients," said Cochran, who recently represented rapper Sean "Puffy" Combs and became a household name defending O.J. Simpson in 1995.
Several members of Simpson's "dream team" of lawyers are reuniting on Lionel's case, including Barry Scheck and Peter Neufeld, co-founders of the Innocence Project, which was created to review guilty verdicts through DNA testing.
Grossett-Tate was pleased to have the noted lawyers working on her son's case. "I feel blessed. That's the only word I can think of to describe it," she said. "O.J. had the dream team. I have the miracle team."
But complicated legal questions remain. Grossett-Tate still insists her son was innocent and that Tiffany's death was an accidental result of rough play. The judge and jury rejected that defense theory.
Copyright 2018 The Lawrence Journal-World. All rights reserved. This material may not be published, broadcast, rewritten or redistributed. We strive to uphold our values for every story published.