Los Angeles — Picking a winner is a difficult thing. Just ask Raye Hollitt, who once had her pectoral muscle torn from her rib cage while performing under the name Zap on the TV show "American Gladiators." Gladiatorial combat acquainted Hollitt with sizing up the competition.
That makes her as good a choice as any to offer her thoughts on the chances that "Gladiator" would win best picture at the Academy Awards on Sunday.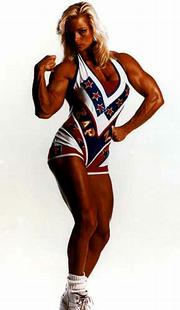 Right? Sure.
"I absolutely loved 'Gladiator,'" said the bodybuilder, who now runs her own modeling Internet site, http://Rayehollitt.com. "It was raw. It is a full-bodied motion picture."
But that doesn't mean it can zap its competition, she added.
"I don't think it will take best picture. It was a little too violent, pretty grotesque in parts," said Hollitt, of Los Angeles.
That is how it was in real life, she said.
"There was brutality on our show, but because it was syndicated television the public never saw how injured we got. Or maybe they saw 20 percent," Hollitt said. "The broken ankles, the protruding bones. The movie 'Gladiator' really captured the blood and muck."
Hollitt thinks that will turn Academy voters off, however. Her money is on "Traffic" to win the top prize.
"I liked the cinematography," she said.
Win or bust
Leave it to someone who jokes she's a certified "cleavologist" to pick "Erin Brockovich."
Karen Ratts, a marketing manager for Wonderbra, said she's sure Julia Roberts' turn as a bosom-heaving legal aide will win.
"The others are good. But do they have great cleavage?" she asked. "No. And 'Gladiator' doesn't count."
The true story about a woman whose work led to a landmark legal settlement over water pollution shows how much a person can accomplish with the right support, said Ratts, of Winston-Salem, N.C.
"She had that busty, sexy look, but it was really about empowering yourself," Ratts added. "She chose how she wanted to run her life and got something great done."
Movie with a message?
A movie's Oscar potential can sometimes be determined by the other awards it wins. "Traffic," an epic tale of lives damaged in the war on drugs, has claimed a number of honors including a Stony.
The Stonies are the annual film awards presented by High Times, a magazine for marijuana enthusiasts.
"'Traffic' wasn't a drug-war propaganda film," said Steven Hager, editor-in-chief of New York City-based High Times. "It was an anti-drug-war propaganda film. Very rare for something like that to get distributed at such a scale."
If the movie wins an Oscar, he hopes that would further the cause of drug legalization.
Meanwhile, the White House office of National Drug Control Policy has also praised the movie, saying it portrays the dangers of narcotics.
Shouldn't those conflicting votes of confidence cancel each other out?
Kung fu favorite
Singer-guitarist James Cahill says his three-person band, the Kung Fu Monkeys, counts "Crouching Tiger, Hidden Dragon" among its favorite pictures.
"We think it's the go-fab, ginchy, ultramatic, top kung fu film to hit these shores since 'Operation Scorpio,"' Cahill said, referring to another band favorite, from 1991.
He doesn't think "Crouching Tiger" can defeat its competitors for best picture, however.
"The track record for honoring kung fu films in the United States is paltry," he said.
The New York band which describes its sound as "shag-haired, surf-beat, bug music" is perturbed that stars of the martial-arts fantasy were, uh, "cast away" by Academy Award voters.
"Those actors learned how to fly," Cahill said. "I don't want to name names, but that's a lot more difficult than wearing dirty pants and growing a beard."
Sweet success
So what does Charlie Arnone, proprietor of the Brooklyn candy shop Choc-Oh!-Lot Plus, think about the Oscar chances of "Chocolat"?
"I don't know. I haven't seen it yet," he said. "But the title is spelled the same as my license plate."
There you have it.
Arnone said he's still eager to see the cinematic confection, and added that his customers favor it for the top Oscar prize.
"People come in and keep mentioning it to me, and they seem to really like it," Anone said. "Hopefully, it will help my business out a little if it wins."
Copyright 2018 The Associated Press. All rights reserved. This material may not be published, broadcast, rewritten or redistributed. We strive to uphold our values for every story published.