For many people, the ringing of the historical bell in the new tower at Corpus Christi Catholic Church is a pleasant sound.
But neighbors like Rich Davis, whose three children are wakened by the bell daily at 6 a.m., wonder if it's a tradition that could be adjusted.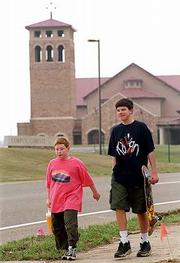 "I'm not sure if it should serve as an alarm clock for every faith and denomination," he said.
Davis said the bells have been a topic of neighborhood discussion because people aren't pleased when the bell wakes their children before it's time to get ready for school.
"The bells are really beautiful, but it is so loud for most of us living in the neighborhood that it wakes us up," he said.
The Rev. Jim Shaughnessy said he has received several calls about the bell ringing, but most of them were positive.
"For the most part, people have really liked the bell," he said. "There was a pin broke in it for a few weeks, and people wondered why we shut it down."
Last year, when the church moved to 6001 W. 15th St., a bell more than 100 years old from the first Catholic parish in Wyandotte County was installed in the new bell tower.
Shaughnessy said a parishioner paid for the necessary equipment to set the bell on a timer, and it started ringing in January.
The significance behind the daily bell ringing comes from the Angelus devotions, and dates to the Middle Ages. Shaughnessy said that for centuries the bells have reminded people who were working in the fields or elsewhere to pray at 6 a.m., noon and 6 p.m.
"The bells are really beautiful, but it is so loud for most of us living in the neighborhood that it wakes us up."
Rich Davis, church neighbor
"It's to remind people to praise God at noon, morning and evening," he said. "It's time for people to stop and pray."
Shaughnessy said that the ringing also was a call to consciousness.
"It's to remind people to break out of their normal routine and to be conscious of the homeless or others who might not be as fortunate or have a place to sleep," he said.
The bell also is rung before Masses 7 a.m. daily during the week, 5:30 p.m. on Saturdays and 8 a.m. and 10:30 a.m. on Sundays and for funerals.
Although there is special significance behind the early bell ringing, Davis said he and some of his neighbors don't like to be rung awake early every day. He said neighbors have compared the church's daily dose of ringing to someone who mows the lawn early in the morning.
"As badly as we might want to get our yards cut in the morning, it's not the neighborly thing to do," Davis said.
"The unintended consequence of the bell, whether we attend that church or not, is that it does not appear to sit well with (people's) sleep schedule or their children's sleep schedule."
Copyright 2018 The Lawrence Journal-World. All rights reserved. This material may not be published, broadcast, rewritten or redistributed. We strive to uphold our values for every story published.