Spokane, Wash. — Oh Jackie!
Jackie Stiles, the Pistol Pete Maravich of women's college basketball, scored 41 points, 25 in the second half, as Southwest Missouri State stunned top-seeded Duke 81-71 in the West Regional semifinals Saturday night.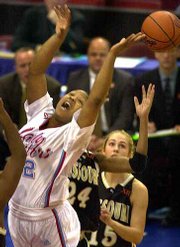 The fifth-seeded Bears (28-5), in a regional final for the first time since their Final Four appearance eight years ago, will play the winner of the Washington-Oklahoma game in the regional final Monday night.
The 5-foot-8 Stiles, the leading scorer in NCAA women's basketball who averaged 30.2 points this season, made 15 of 22 field goals with a dazzling repertoire of soft jumpers, spin moves and fearless drives.
Alana Beard scored 27 for Duke (30-4) but was saddled by foul trouble and fouled out with 59 seconds to go. Iciss Tillis scored 14 and Georgia Schweitzer 10 for the Blue Devils.
Tara Mitchem scored 17 for the Bears, including a three-pointer to start the second half.
Otherwise, it was the Stiles show. With the capacity Spokane Arena crowd cheering her on, she scored 16 as Southwest Missouri State outscored Duke 22-10 over the final 8:11.
Down by as many as 12 points in the first half and trailing 42-36 at the break, the Bears went on a 12-2 run to start the second half.
Stiles' three-point play gave Southwest Missouri State a 46-44 lead with 15:27 to play. Duke starting forward Rochelle Parent drew her fourth foul on the play. Stiles' soft 14-footer capped the run to put the Bears up 48-46.
There were nine lead changes before Stiles gave Southwest Missouri State the lead for good, 66-65, with a 10-footer with 5:47 to play.
Carly Deer sank a three-pointer and Stiles a 14-footer while the Blue Devils committed three consecutive turnovers in a 7-0 spurt that put the Bears up 71-65 4:31 from the finish.
Duke led throughout the first half after Beard's three-pointer put the Blue Devils up 12-11, but Stiles kept the Bears close.
Stiles was 7-for-10 from the field in the first half for 16 points. Mitchem, limited to 12 first-half minutes because of foul trouble, had nine points at halftime on 4-for-5 shooting.
Beard was 5-for-7 for 15 points in the first half but drew her third foul with 1:49 to play until the break.
Stiles got her second foul with 14:37 to play in the half and went to the bench. But she came back two minutes later and played the rest of the game with just one more foul.
Beard, who settled down after turnovers on Duke's first two possessions, scored six in a 15-5 run that gave the Blue Devils a 32-20 lead on a three-pointer by Tillis with 8:05 to go in the half.
But Duke went cold and Stiles kept up the pressure. She scored seven, including a high-arching 3-pointer over the 6-foot-4 Tillis, as Southwest Missouri cut it to 36-31 2:47 before halftime.
East Regional
Louisiana Tech 78,
Missouri 67
Pittsburgh Leon Barmore wasn't ready for retirement and neither were his Louisiana Tech, which is back in the NCAA final eight despite an offseason upheaval.
Takeisha Lewis, taking over as Missouri's front line got into foul trouble, had 20 of her 27 points in the second half as Louisiana Tech relied on its tournament poise to beat the Tigers and reach the East Regional final.
Brooke Lassiter had 25 points, including five in a quick flurry with just under two minutes remaining after Missouri a 10th-seeded team playing in NCAA women's round of 16 for the first time since 1982 had closed within four points.
"I'll tell you one thing, this bunch has a lot of heart," said Barmore, one of the most successful coaches ever, with 521 victories. "We've got no seniors, and look where we came from. We've gotten everything out of this team we could possibly get."
The Techsters are in a regional final for the fourth consecutive season, even though Barmore retired for 17 days before being coaxed back last year and Tech lost six key players and two assistants coaches from a regional final team.
"The whole year has been a battle, but we're just hungry for this championship," Lassiter said.
Connecticut 72, N.C. State 58
Pittsburgh Diana Taurasi gave defending champion Connecticut a big lead with her three-point shooting and the Huskies overcame a slapdash second half to beat North Carolina State, 72-58, Saturday and reach the East Regional final.
Taurasi, the nation's most heavily recruited high school player a year ago, had 24 points 19 in a first half in which she was 5-for-5 from three-point range. Sue Bird had 16 as UConn won its ninth in a row in NCAA Tournament play.
Midwest Regional
Vanderbilt 84, Iowa State 65
Denver Chantelle Anderson scored 34 points and Ashley McElhiney added 23 as third-seeded Vanderbilt advanced to the Midwest Regional final with a victory over second-seeded Iowa State. Vanderbilt, which meets top-seeded Notre Dame on Monday night, built a 13-point halftime lead and stretched it to 22 on four occasions in the second half.
Anderson, who entered the game as the nation's leading field-goal shooter at 73 percent, made 16 of 23 shots, most of them layups. The second-team All-America center scored 24 points in the second half, many of them after Iowa State center Angie Welle was sidelined with foul trouble.
But McElhiney was even hotter, hitting her first seven shots, including five three-pointers, before finally missing on a long-range shot with 7:56 remaining. She finished 7-for-9, including 5-for-6 from three-point range, and was 4-for-4 from the line.
Zuzana Klimesova added 13 points and nine rebounds for Vanderbilt (24-9), which was making its first final 16 appearance since 1997.
Iowa State (27-6) was led by Welle, who scored 20 points despite playing only 12 minutes of the second half. Tracy Gahan had 14 points, and Lindsey Wilson and Megan Taylor had 13 each.
Notre Dame 69, Utah 54
Denver All-America center Ruth Riley scored 18 of her 24 points in the second half, leading top-seeded Notre Dame over fifth-seeded Utah and into the NCAA Midwest Regional final.
Riley also had 14 rebounds and six assists.
Copyright 2018 The Associated Press. All rights reserved. This material may not be published, broadcast, rewritten or redistributed. We strive to uphold our values for every story published.