Cleveland — With all the injuries the Cleveland Cavaliers have endured this season, Wesley Person was not about to be stopped by a gash over his eye.
Person received four stitches and was one of seven Cavaliers to score in double figures in a 117-105 win over Denver on Saturday night.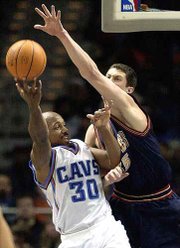 "There's no reason to back down or back off, no matter what the situation," said Person, who finished with 12 points and season-highs of 11 rebounds and six assists.
Andre Miller had 24 points and 13 assists to lead Cleveland, which won its second straight game for the first time in two months. The Cavaliers went 4-23 since earning back-to-back wins against Portland and Chicago in January.
"You get two in a row, you never know what happens, you might go out there and get them all," Cavaliers center Chris Gatling said.
Antonio McDyess had 32 points and 13 rebounds and Nick Van Exel scored 26 points for Denver.
"Tonight, we had a beatable team and they came out and played the way we should have," McDyess said. "We picked up the intensity in the second half, but the lead was long gone by then."
Matt Harpring scored nine points in a 15-4 run that gave Cleveland a 28-18 lead. The Cavaliers' largest lead was 22 points, 65-43, with 1:07 left in the first half.
"Coming out hard was key with them playing Friday night and then traveling," Cavs coach Randy Wittman said.
Nuggets coach Dan Issel refused to use fatigue as an excuse.
"Everybody is tired," Issel said. "I think you have to have some pride in that you go out and try to defend. I just don't think it bothers us enough that people run by us and lay the ball in the basket."
The Nuggets, fourth in the NBA in three-point field goals, missed their first nine attempts from beyond the arc before hitting two three-pointers in the fourth quarter.
Denver closed within 109-101 on a short jumper in the lane by McDyess with 1:47 left.
Person then made two free throws, rebounded a missed shot by the Nuggets' Vashon Lenard, and hit a 19-foot jumper to restore Cleveland's lead to 12 with 1:02 remaining.
"I want to show I'm more than a shooter," Person said. "I had an opportunity to help the team off the glass tonight and enjoyed it. I like to focus on every phase of the game and be a complete player for my team."
Harpring had 11 of his 13 points in the first quarter. Gatling scored 10 of his 20 in the second, and Lamond Murray had 10 of his 16 in the third for Cleveland.
Miller had 14 points and seven assists in the first half as Cleveland opened a 65-46 halftime lead.
Jazz 119, Wizards 93
Salt Lake City Karl Malone became the NBA career leader for free throws made and Jacque Vaughn scored a career-high 18 points as Utah beat Washington. Malone became the NBA career leader for free throws made when he converted a pair of foul shots with 10:48 remaining in the third quarter.
Malone, who has made 8,534 of 11,576 free throws in his 16-year career, passed Moses Malone, who made 8,531 of 11,090.
Donyell Marshall scored 16 points, Malone added 15 and Scott Padgett 13 for the Jazz.
Richard Hamilton scored 25 points for Washington, which has lost five of its last six games. Jahidi White added 18 as the Wizards closed their road trip with a 1-4 record.
The Jazz, coming off a disappointing 101-99 loss to Portland on Thursday, charged to a 28-8 lead in the first eight minutes. Utah scored 20 of its first 28 points on a combination of layups, dunks and free throws, shooting 82 percent in the first quarter.
The Wizards shot 26 percent and trailed 41-13 at the end of the first quarter.
Utah set season-highs in first-quarter and first-half points. The Jazz led 70-40 at the break.
Mavericks 103, Hornets 100
Dallas Michael Finley had 31 points and 10 rebounds, and Dirk Nowitzki added 27 points as Dallas ended a two-game losing streak with a victory over Charlotte. Steve Nash had 22 points for the Mavericks, who lost more than two in a row only once this season, a three-game skid from Jan. 11-15.
David Wesley and Elden Campbell each had 25 points for the Hornets, who lost two straight for the first time since dropping four in a row Feb. 1-6.
SuperSonics 93, Rockets 90
Seattle Ruben Patterson scored 23 points, including the game-winning layup with 12.3 seconds left, as Seattle beat Houston. The Rockets lost their third straight game and dropped 31*2 games behind idle Minnesota in the battle for the final playoff spot in the Western Conference.
Patterson hit a runner in the lane to give Seattle a 91-90 lead and then deflected Steve Francis' jumper with less than five seconds remaining.
Warriors 103, Pistons 95
Oakland, Calif. Antawn Jamison scored 34 points and Mookie Blaylock capped his triple-double by hitting the clinching jumper with 30 seconds left as the Warriors snapped their 11-game losing streak. Blaylock had 13 points, 12 assists and 13 rebounds as the injury-riddled Warriors won for just the second time since the All-Star break.
Copyright 2018 The Associated Press. All rights reserved. This material may not be published, broadcast, rewritten or redistributed. We strive to uphold our values for every story published.