Tetovo, Macedonia — Army helicopters swooped over a mountain within sight of this city and fired several rockets at suspected guerrilla hideouts Saturday in the first air assault of Macedonia's month-old ethnic conflict.
The government wasted little time deploying the two MI-24 attack helicopters after acquiring them Friday from Ukraine. The late-afternoon strike came a few hours after ethnic Albanian rebels on the mountain sent two mortar rounds slamming into a Slavic neighborhood near a police checkpoint, wounding four civilians.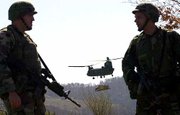 Macedonia's army and police, ill-prepared for ground combat against the mountain-based insurgency, have been fighting back mainly with long-range artillery. The government's introduction of air power raised the stakes in a conflict that holds the risk of heavy civilian casualties on both sides.
The lightning helicopter attack sent up plumes of dirt and smoke over a slope of Mount Sar Planina, which looms above Macedonia's second-largest city. There was no word of any casualties.
So far, the intensity of fighting, revolving mostly around Tetovo, has been low. Macedonia's Slav-led government has held back a threatened offensive against the rebel National Liberation Army, which says it is fighting for equal rights of the ethnic Albanians who make up nearly a quarter of Macedonia's 2 million people.
President Bush on Friday and U.N. Secretary-General Kofi Annan on Saturday joined a chorus of international appeals to the government here to act with restraint against the guerrillas said to number a few thousand and to work with elected ethnic Albanian political leaders to address legitimate grievances.
The Macedonian leadership, which brands the rebels as separatists and terrorists, gave the world leaders a testy reply Saturday. "We thank them for their recommendation," said government spokesman Antonio Milosovski, "but Macedonia is a sovereign state, so any decision to use any kind of force against terrorists is only ours."
Prime Minister Ljubco Georgievski told reporters late Friday that a political decision had been made to strike the rebels hard.
"Now it is up to the military to judge when conditions are right for a successful operation," he said. "It could be one hour or one day or one week. It is completely up to the military."
Copyright 2018 The Lawrence Journal-World. All rights reserved. This material may not be published, broadcast, rewritten or redistributed. We strive to uphold our values for every story published.