SAN ANTONIO — By all accounts, Kirk Hinrich's sophomore season was better much better than his freshman campaign.
The 6-foot-3 Sioux City, Iowa, native basically doubled his point production (5.5 ppg to 11.5) and assist average (3.6 to 6.9), while suffering more turnovers 111 bobbles to 87 than a year ago.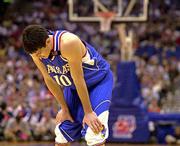 Still, the gritty floor general isn't ready to give himself a grade of A-plus for his second college season.
The bottom line, he said, is the Jayhawk team 26-7, compared to last year's 24-10 mark didn't advance as far as he desired.
"I think we made a lot of strides this year," Hinrich said after Friday's 80-64 NCAA Sweet 16 loss to Illinois.
"We still weren't capable of winning the big one. We didn't beat anybody we weren't supposed to beat. We had an all right year. We just have to re-dedicate ourselves to come to play every night. There are nights, for whatever reason, we didn't.
"It's a long season, but you can't do that."
A home victory over Big 12 champion Iowa State, a road victory at Baylor and a Big 12 tourney semifinal win over Oklahoma likely would have given the Jayhawks all they desired a Big 12 title and No. 2 seed in the NCAAs.
The No. 4 seed the Jayhawks attained might not be half bad, but it set up a Sweet 16 Midwest Regional matchup with No. 1 powerful, physical, deep Illinois.
"We had our chances," Hinrich said. "We put ourselves in perfect position to have a shot at No. 1 seed in the Midwest. You've got to be able to beat teams, that's the bottom line. You've got to be able to perform."
Nick Collison, Hinrich's sophomore roommate who also improved his production (14.0 ppg and 6.7 boards compared to 10.5 ppg and 6.9 rpg last year), had similar feelings about the season.
"Making it (to Sweet 16) is better than getting knocked out earlier," he said.
KU had been one win and done in the NCAAs the prior three seasons.
"It's nice, but I don't think anybody in this locker room is satisfied. We have a lot of good things going for us," Collison added of the future. "It's just hard to think ahead like that after a loss."
Some might say the team actually overachieved. Senior swingman Kenny Gregory didn't play in the loss at Wake Forest due to an injury, while sophomore forward Drew Gooden was sidelined during losses to Baylor and Iowa State. Senior Luke Axtell struggled physically all year.
Still, the Jayhawks were despondent after the Illinois game.
"We knew we could go to the Final Four. It was a goal of ours all year. To not show up for this game really hurts," Gooden said. KU committed 13 early turnovers in falling behind 17-7. "We could have played so much better woulda, shoulda, coulda. The season is over. It's behind us.
"Everybody has got to take some time off, then prepare themselves for next year. We've have our second tournament under our belts. We know more what it takes to win," Gooden added.
Gooden, Collison and Hinrich will all be juniors next year. Coach Roy Williams said he expects Gooden to return despite the forward's plans to discuss an early entry into the NBA with his family.
Starting guard Jeff Boschee will return along with reserves Jeff Carey, Bryant Nash, Brett Ballard, Chris Zerbe, Todd Kappelmann and Lewis Harrison.
As for recruits, power forward Wayne Simien is coming aboard along with guards Aaron Miles, Michael Lee, Keith Langford and Jeff Hawkins, who will red-shirt next season. Williams has one scholarship available, which he may use for a big man.
Gooden he improved his point production from 10.6 his rookie year to 15.8 this season sees one area in which the returnees and newcomers must mesh.
"In big games this year, we never could make plays down the stretch," Gooden said. "We've got to be able to do that."
Highlights of the KU season included a .788 win percentage, Coaches V. Cancer tourney title, second-place finish in the Big 12 and home schedule that included 13 wins against one loss.
"I think with the expectations we have around here we had a pretty good season," Gregory said of a year in which he averaged a career best 15.6 points and 7.3 boards.
"I know we got off to a great start (17-1). I guess everybody expected us to go 30-1 throughout the regular season. We knew it wasn't going to be like that. We knew it wouldn't be that easy.
"It was a tough year at times, but a lot of positives also. I had a lot of fun through the course of the year. We won a lot of games. I'm not satisfied, but I'm not disappointed with it either."
Gregory and center Eric Chenowith finished their careers without a Final Four. What will it take to go a bit deeper in the tourney?
"Get some thugs that are ready to beat guys up and take out whoever is scoring the most points," Chenowith quipped. "It seems we are always getting knocked down by a shooter in the tournament."
Illini point guard Frank Williams scored a career-high 30 points against KU on Friday.
"Amazing," Chenowith said. "It was almost quiet 30, yet he dominated. Illinois is great, but you've got to beat teams like that to go on."
KU coach Williams wanted to move on desperately, but as he reminded his team in the locker room, "Gosh, 26-7 ... that's not bad, yet we all have dreams and desires. We want to go farther," Williams said.
"After the game I thanked Kenny and Eric. I'm sure I told them I was sorry, because I'd like the seniors to have a better ending every year. I told them they were a great group of kids.
"Twenty six and seven ... they should feel good knowing they kept a great program up there in front of people. I told them I appreciated it and told 'em how lucky I was."
As far as the future. ...
"You hope during the summer they'll do all the work that they can and do everything they can to become the best players they can be," Williams said.
Copyright 2018 The Lawrence Journal-World. All rights reserved. This material may not be published, broadcast, rewritten or redistributed. We strive to uphold our values for every story published.