Ponte Vedra Beach, Fla. — Tiger Woods aimed the putt at the right edge of the cup and watched the ball roll 60 feet down the hill, sweeping 6 feet to the left and then 6 feet to the right. The roar was deafening when it dropped in for birdie.
"I really thought he made a hole-in-one on 17," said Jerry Kelly, who heard the commotion while walking down the 15th fairway. "It's in the back of your head. You knew something was happening."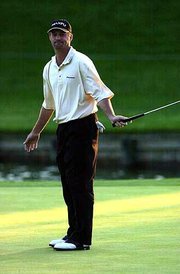 Today in The Players Championship, Kelly might get to see for himself.
Kelly handled the pressure of one of golf's biggest tournaments like a seasoned veteran on Saturday, making only a few mistakes in tough conditions for a solid round of 2-under 70 to take a two-shot lead into the final round.
Now comes the last test 18 holes over a Stadium Course that is becoming firmer, faster and more unforgiving, while paired in the final group with golf's best player.
"I've never played with him, so I don't really care," said Kelly, who was at 205. "Intimidating? He's another golfer. Tiger is going to be nervous, too. He hasn't won this tournament, either."
Woods gave himself a chance for the second straight year with a thrilling and adventurous round that including spectacular shots out of the bunker and the mangled rough, and that 60-foot birdie putt on the island-green 17th, one of the most notorious holes in golf.
Despite chopping his way to bogey on the last hole, Woods had the best score of the third round in the most trying conditions, a 6-under 66 that left him two strokes back along with Masters champion Vijay Singh (70).
Scott Hoch had a 71 and was another stroke back.
A year ago, Woods came up short against Hal Sutton. This time, he is going up against a former hockey player who has never won on the PGA Tour, and was not willing to consider what was riding on today's outcome.
No one has ever made the prestigious Players Championship his first tour victory. The first-place check from the $6 million purse is $1,080,000. Kelly could earn a three-year exemption to the Masters, the only major championship he has never played.
Kelly's best finish on tour was runner-up in the 1996 Greater Milwaukee Open, where Woods made his professional debut and tied for 60th. Kelly will never forget the electricity that week, and was determined to play against him some day.
"I didn't think he was going to do what he did. I don't know who did, besides his father," Kelly said of the 25-year-old star who already counts the career Grand Slam among his 25 tour victories. "He's the best player in the world. I want my game to match up, and I can't wait."
Woods only shrugged when asked how Kelly might feel.
"I haven't been in that position," he said. "The first tournament I won wasn't The Players Championship, it was out in Las Vegas. To have this as your first victory would be pretty impressive. This golf course is not easy.
"I think he's playing well, and that's all that matters."
Woods was spectacular throughout the day, even when he was spraying the ball all over the Stadium Course early in his round. From a fairway bunker on the No. 4, his approach over the stream caught the back of the green and spun back within a foot of the hole.
He made par on No. 6 from the trees, splitting the middle of two tall pines and clearing a 40-foot palm near the green to within 30 feet for a two-putt. He also hit a flop shot out of mangled rough on No. 8 to 12 feet and made par with a putt that broke about 12 inches.
Copyright 2018 The Associated Press. All rights reserved. This material may not be published, broadcast, rewritten or redistributed. We strive to uphold our values for every story published.