Kansas University softball pitcher Kara Pierce probably was the only person in the entire state or even the Midwest, for that matter wearing a short-sleeve shirt on Saturday afternoon.
"I'm from Arizona so I've never worn sleeves or pants," Pierce said. "So we don't mess with the mojo."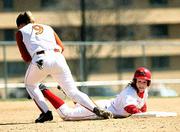 The mojo certainly was flowing for Pierce who did wear pants and the Jayhawks as the freshman didn't allow an earned run in a complete-game 2-1 Big 12 victory over Texas under chilly, blustery conditions at Jayhawk Field.
Her coach, however, had another theory as to why Pierce chose to be bare-armed.
"She's a freshman," KU coach Tracy Bunge quipped. "What can I say?"
Pierce, who's from Mesa, Ariz., said Saturday was the coldest and windiest conditions she's ever pitched in, with the temperature in the 40s and the wind howling out of the north at 15-20 mph.
Nevertheless, the right-hander held the Longhorns (17-16, 0-1 Big 12) to just four hits with three walks and three strikeouts as KU (13-15, 1-2) improved to 4-1 at home this season.
"It's nice, actually, because that's my first Big 12 win," said Pierce (9-7), "and I think with this game we can just take it through the whole season."
Not to be outdone, Texas' senior all-Big 12 pitcher Charla Moore (9-8) contained KU to just one earned run on seven hits in six innings while walking two and fanning seven.
KU sophomore first baseman Leah Hansen, who had just one extra-base hit coming in, was 2-for-3 with two doubles and an RBI. Her first hit, a bloop double to short left field, scored junior second baseman Amy Hulse from second to break a scoreless tie.
"I think I just kinda got lucky," Hansen said, "lucky wind blowing for me."
The Jayhawks scored their other run when senior right fielder Erin Garvey hit a lead-off single and scored on a three-base error when Texas third baseman Melissa Malchi tried to force her out at second, but tossed the ball into center field and it rolled to the fence.
"It's something we haven't been getting," Bunge said of timely hitting. "They didn't necessarily look real pretty because I thought the hitter of the day for us was Katie Campbell and she goes 0-for-3. But every time she was up at bat she was making a lot of noise. She was swinging an aggressive bat. I loved the way she swung the bat.
"Then you have Leah Hansen, who doesn't hit a single ball hard and she gets two hits. But it's the way the game's played, the way the ball bounces and we'll take those two hits from Leah Hansen any time, any place."
KU, which closes its two-game series with Texas today at 1 p.m. at Jayhawk Field, still feels it has something to prove.
"One of the things that kinda got under the skin of this team early was us being picked (to finish) ninth in the conference," Bunge said. "In the locker room is that coaches' poll from the preseason and they see it every day they walk in the locker room. So to get a win over somebody who's ranked a whole lot higher than us in the conference is a big deal for them.
"But the nice thing is, I don't think that they're satisfied and they're really thinking that this is going to start us for the rest of the year and for some good things the rest of the year."
Kansas 2, Texas 1
TEXAS ab r h bi
Tiffany Valdehueza lf 4 0 0 0
Kathleen Richter rf 3 0 0 0
Deeanna Williams dh 4 0 1 0
Patricia Vega pr 0 0 0 0
Marlo Hanks c 2 0 0 0
Tamara Poppe ss 3 1 1 0
Sarah Wieszczak 2b 2 0 1 0
Autumn Eastes cf 2 0 1 0
Trisha Tatro 1b 3 0 0 1
Melissa Malchi 3b 3 0 0 0
Totals 26 1 4 1
KANSAS ab r h bi
Shelly Musser cf 3 0 0 0
Erin Garvey rf 3 1 1 0
Megan Urquhart 3b 2 0 1 0
Leah Tabb c 3 0 0 0
Katie Campbell dh 3 0 0 0
Courtney Wright ss 3 1 2 0
Amy Hulse 2b 2 0 1 0
Christi Musser lf 3 0 0 0
Leah Hansen 1b 3 0 2 1
Mel Wallach pr 0 0 0 0
Totals 25 2 7 1
Texas 000 001 01
Kansas 011 000 x2
EMalchi, Wright 2. LOBTexas 8, Kansas 7. 2BWilliams, Wright, Hansen 2. SBValdehueza. CSHulse. SHWiezczak.
IP H R ER BB SO
TEXAS
Charla Moore L, 9-8 6 7 2 1 2 7
KANSAS
Kara Pierce W, 9-7 7 4 1 0 3 3
WPPierce. T2:05. A104.
Copyright 2017 The Lawrence Journal-World. All rights reserved. This material may not be published, broadcast, rewritten or redistributed. We strive to uphold our values for every story published.