Playful stuffed monsters mounted on tricycles, small tins with piles of fingernails, colorful embroidered maps and utopian cityscapes are among the works by young Japanese artists making their U.S. debut.
"The First Steps: Emerging Artists From Japan" is the third exhibit of its kind at the Grey Art Gallery. It gives winners of a highly competitive art competition a chance to break into the U.S. art scene.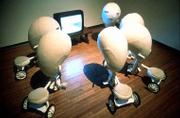 It's as wonderful an opportunity for museum-goers as for the artists themselves. The exhibit offers a rare glimpse of cutting-edge art produced by young artists in Japan, none of whose work has previously been shown in this country. The seven artists, all between 20 and 40 and living in Japan, were selected from more than 1,000 by an international panel of art professionals.
"Japanese contemporary art's time has come. Finally, the art world is slowly opening up," says Lynn Gumpert, director of the Grey Art Gallery, host of the biennial show. "Despite a few exceptions like Yoko Ono, who really lived here not in Japan, the Western art world was very insular for a long time. Now it's getting more possible for artists to be more international."
Although few New York galleries specialize solely in contemporary Japanese art, Gumpert says, the public can expect to see an increasing number of works by Japanese artists in their local galleries.
"There's a wide range of expression, which surprises some people," she says. "I had a couple people say it doesn't look very Japanese. But, of course, contemporary art in Japan is just two different worlds. There are the traditional artists and then there are the contemporary and avant-garde artists, and these artists are very conversant with both East and West.
"I think you find a real synthesis in their work."
One example of that synthesis is the mixed-media video installation "Memory of Media," by a group of seven artists known as the MMM Project, short for "Multi-Media Modeling."
"You have this video of a commuter train that's crossing in front of the gate of a Shinto shrine. The video ends when you have that moment when modern technology and the traditional all come together and everybody is at that one point. That's part of life in Japan," Gumpert says. "Western ways and know-how have really been absorbed into the fabric of Japanese life."
The piece, one of the few that gives away the origin of the artist, is about the relationship between memory and time and perceptions of time.
"In these works, there is an overriding theme about personal relationships and notions of identity in cyberspace reality," Gumpert says.
Copyright 2018 The Associated Press. All rights reserved. This material may not be published, broadcast, rewritten or redistributed. We strive to uphold our values for every story published.