El Cajon, Calif. — Three weeks ago, after a deadly shooting spree at Santana High School, officials at the regional school district took steps to prevent such an attack from ever happening again.
Full-time, armed police officers were assigned to the district's 12 campuses. Administrators and teachers reviewed crisis plans, and students were encouraged to report the slightest threat or rumor.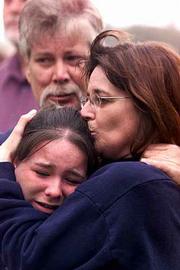 In spite of the precautions, a Granite Hills High School senior named Jason Hoffman allegedly knelt next to a eucalyptus tree in a small quad in front of the school and opened fire with a 12-gauge shotgun, wounding three students and two teachers.
In the aftermath of Thursday's attack, school and city officials wonder if there is anything they can do to prevent campus violence.
"You figure the odds are astronomical it would happen in the same school district," said El Cajon Mayor Mark Lewis, a 1966 Granite Hills graduate. "We're just going to have to seek a solution if there is one."
The Granite Hills and Santana campuses are both in the Grossmont Union High School District, hardly six miles apart. Students from the schools share sports rivalries and friendships, and see each other on Sundays at church.
After the March 5 rampage at Santana, district officials were well aware of the possibility of a copycat crime, school board member Ted Crooks said.
Safety had always been a top priority, he said, but officials stressed it more than ever at Granite Hills and other campuses.
Granite Hills "was as prepared and as proactive as they could have been," Dan McGeorge, school board president, said.
"I don't think the administration is to blame," added Sean Connacher, 18, a Granite Hills senior. "He was an angry kid. What are they going to do?"
Moments after the gunfire started Thursday, Hoffman was chased and shot by campus police officer Rich Agundez Jr. Hoffman was hospitalized with a broken jaw and a bullet wound to his buttocks. He faces probable charges of attempted murder and assault with a deadly weapon.
"Our school resource officer, Rich Agundez, is my personal hero because he acted immediately," Granite Hills Principal Georgette Torres said. "I'm just glad he was in the office, because if he wasn't there, a lot of people would have died."
"I think that the effectiveness of the response in minimizing the circumstances clearly shows this school was well-prepared," McGeorge said.
Ironically, those preparations were discussed at a meeting of school administrators and Granite Hills parents the night before the attack at the school.
"Thankfully, this school responded exactly the way we all said it would the night before," Crooks said.
Experts say it's not possible to totally eliminate the threat of school violence, but they believe it can be minimized with increased security and other measures.
"You don't want to turn teachers into the Gestapo. And yet at the same time, it's difficult for a student to focus on decimal placement in math class if he or she is worried about being shot before the day is out," said Ronald Stephens, executive director of the National School Safety Center. "So it's a question of how do you strike a balance."
"I'm supposed to feel safe at school. If I come to school thinking I'm going to be shot, what's that going to do?" said Billy Ditzler, 16, who sprained his neck and back Thursday diving to the floor when the gunfire began. "I'm just afraid it's going to happen again."
Some frightened parents are demanding tighter security while others are seeking alternative ways to educate their children.
"Brick-and-mortar schools will cease to exist if this continues," said Mike Cook, who is considering home-schooling his 15-year-old daughter rather than allowing her to return to Granite Hills.
"If we can't stop it, home-schooling will start and Internet education will take over," he said.
Copyright 2018 The Associated Press. All rights reserved. This material may not be published, broadcast, rewritten or redistributed. We strive to uphold our values for every story published.