Rostov-on-Don, Russia — Three bomb-stuffed cars exploded almost simultaneously Saturday, killing at least 21 people and injuring more than 150 in the worst act of terror to hit Russia outside warring Chechnya in months.
Russian officials accused Chechen insurgents of the bombings in three southern towns near the breakaway republic. But they offered no evidence, and rebel leaders denied responsibility. Police were on alert around the country, and top government officials flew to the scene.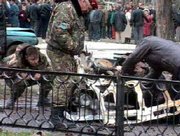 The worst blast hit Saturday morning near a bus stop at the entrance to a bustling farmer's market in the city of Mineralnye Vody, leaving bodies and bloodied, burst shopping bags strewn across the pavement and survivors collapsed from shock.
Nineteen people were killed in the blast, caused by a car bomb detonated by remote control, said Col. Alexander Lemeshev, duty officer for the Emergency Situations Ministry in the northern Caucasus.
Another 142 people were injured, with 40 in serious condition, said Viktor Kazantsev, head of the administrative zone for southern Russia.
"I went with my brother and father, we looked at some milk, then suddenly something blew up, I didn't understand. I ran away in shock, then I ran back and everyone was lying around," a shaken boy with a taped-up wound on his face told state-controlled ORT television from his hospital bed.
Sobbing women gathered outside the hospital, their coats sprinkled with wet snow. Mangled, smoldering cars near the market sent plumes of smoke above the area.
About the same time as the blast in Mineralnye Vody, two Interior Ministry inspectors were killed in a car bomb explosion on a highway near the village of Adyge-Khabl in the Karachayevo-Cherkessia region.
The officers had stopped the driver of the car, a 24-year-old local resident, to check his documents. They detained him when he offered them a $10,000 bribe, Lemeshev said. They then took the car to a remote area outside the village to inspect it, and it exploded.
A nearly simultaneous car bombing hit near the entrance to a traffic police office in the town of Yessentuki in the Stavropol region, injuring 13 people, police said.
In all three cases, small Zhiguli sedans were stuffed with explosives and were activated within minutes of each other, police said.
Yessentuki is about 15 miles southwest of Mineralnye Vody, which in turn is about 40 miles east of Cherkessk. All three towns lie within 100 miles northwest of Chechnya, and less than 200 miles southeast of the Russian city of Rostov-on-Don.
Copyright 2018 The Associated Press. All rights reserved. This material may not be published, broadcast, rewritten or redistributed. We strive to uphold our values for every story published.