Lecompton to honor Korean War veterans
The Lecompton Historical Society is seeking Korean War veterans to honor with a commemorative pin that marks the war's 50th anniversary.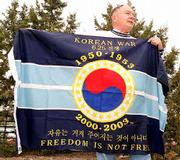 Korean War veterans will be honored at a ceremony during Lecompton Territorial Days. The ceremony will be at 2:30 p.m. Saturday, June 23, at the Lecompton Territorial Capitol Museum.
The honor isn't limited to vets who live in Douglas County, but notification needs to be sent by June 1, said Paul Bahnmaier, historical society president, shown above with a commemorative flag that will be used during the event.
To qualify for a pin, veterans must have served between June 25, 1950, and July 27, 1953; been on permanent assignment or temporary duty for 30 consecutive days or 60 nonconsecutive days; and performed duties within the territorial limits of Korea, its adjacent waters or in flight over Korea in actual combat operations or in support of combat operations.
Those who qualify should send their names, addresses and telephone numbers to the Lecompton Historical Society, 393 N. 1900 Road, Lecompton 66050.
Income taxes
Food, homestead refunds will be topic of meeting
A presentation will be made Tuesday about eligibility requirements and the process of applying for food sales tax and homestead tax refunds on Kansas income tax returns.
It will be from 11 a.m. to noon at Independence Inc., 2001 Haskell. Making the presentation will be Jack Connolly from the Douglas County Senior Center.
For more information on the program, call Susan Mikesic at 841-0333.
50th anniversary
Rural medical program recognized by governor
Gov. Bill Graves will a sign a proclamation Monday honoring the 50th anniversary of a Kansas University Medical Center program that places medical students alongside rural physicians.
The proclamation in recognition of the Volunteer Physician Network will be signed at 1:30 p.m. Monday in Graves' office in the state Capitol in Topeka.
The program began as the Kansas Rural Preceptor Program. Today the program allows all medical students from the KU School of Medicine campuses in Kansas City, Kan., and Wichita to receive part of their clinical training by working with physicians in rural areas who volunteer their time and expertise to the program.
Many of the participating students have chosen to practice in rural areas after they finished medical school, said Deborah Powell, executive dean of the School of Medicine.
A yearlong celebration of the program is focusing recognition on the volunteer physicians throughout the state. A film documentary and commemorative book are planned.
Copyright 2018 The Lawrence Journal-World. All rights reserved. This material may not be published, broadcast, rewritten or redistributed. We strive to uphold our values for every story published.