Boston — Ray Bourque returned to Boston with a team that showed his fans what they, and he, had been missing a real chance to win the Stanley Cup.
He had two assists in his first game in Boston since the Bruins traded him March 6, 2000, as the Colorado Avalanche won their fifth straight Saturday, 4-2.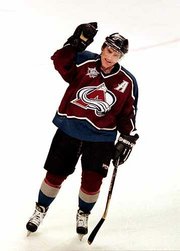 "It was a very nice day, and I had a lot of fun with it," said Bourque, who asked to be dealt in his 21st season with the Bruins to a title contender.
Mighty Ducks 3, Kings 3
Los Angeles Oleg Tverdovsky scored with 7:09 left in the third period to help lift the Anaheim to a tie with Los Angeles.
Sabres 3, Hurricanes 1
Buffalo, N.Y. Stu Barnes and Erik Rasmussen scored on consecutive third-period shots and led Buffalo over Carolina.
Maple Leafs 5, Flyers 3
Toronto Yanic Perreault had a goal and an assist to lead Toronto over Philadelphia. Mats Sundin, Igor Korolev, Aki Berg and Darcy Tucker also scored for the Maple Leafs.
Thrashers 3, Canadiens 2
Montreal Steve Guolla scored the go-ahead goal in the third period and added two assists as Atlanta rallied.
Capitals 3, Lightning 2
Tampa, Fla. Steve Konowalchuk scored the go-ahead goal on a power play with 4:19 left in the third period.
Senators 4, Predators 0
Nashville, Tenn. Patrick Lalime stopped 20 shots to extend for his seventh shutout of the season.
Blues 5, Blackhawks 1
St. Louis Al MacInnis and Pierre Turgeon each had a goal and two assists.
Rangers 6, Red Wings 0
New York Chris Osgood made 24 saves for his 30th career shutout.
Blue Jackets 6, Flames 4
Columbus, Ohio Espen Knutsen set a team record with five points all assists as Columbus beat Calgary.
Coyotes 7, Oilers 4
Phoenix Shane Doan had a power-play goal and four assists, and Jeremy Roenick scored twice.
Copyright 2018 The Associated Press. All rights reserved. This material may not be published, broadcast, rewritten or redistributed. We strive to uphold our values for every story published.