It was more of the same for Kansas University's baseball team.
After falling to Baylor 11-2 on Friday, the Jayhawks suffered a 12-0 loss Saturday at Hoglund Ballpark.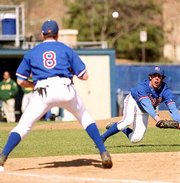 The game ended after eight innings because of the mercy rule.
"We just didn't show up to play today," KU coach Bobby Randall said, "and that's my fault as a coach. We just did not play aggressively."
As they did on Friday, Matt Williams and Kelly Shoppach led Baylor's offense. Williams went 3-for-4 with a double, a home run and three RBIs Saturday and Shoppach went 3-for-5 with a homer and three RBIs.
Williams is 7-for-9 with three doubles, two homers and seven RBIs in the first two games of the three-game series, and Shoppach is 6-for-10 with two home runs and six RBIs.
"I'm having a good weekend," Williams said. "This is my best weekend I think I've had so far at Baylor. I'm not trying to think too much, I'm just going up there looking for strikes to hit."
Williams and the rest of the Bears saw a lot of strikes in the first four innings, as Pete Smart tied his career-high with eight strikeouts and held No. 16 Baylor (20-8 overall, 8-3 Big 12 Conference) to one run in the first four innings.
Smart (6-1, 3.86 ERA) nearly got out of the fifth inning without giving up a run, but with two outs Chris Durbin hit an 0-2 pitch into right center for a run-scoring double, and Shoppach followed with an RBI single to left.
"I think Pete pitched his heart out. Then after that it wasn't pretty." Randall said. "I thought the strike zone was pretty small ... and they wore him down. Truthfully, it wasn't what he did. I wish we'd have scored some runs. That's what we needed to do."
Josh Scott (4-2, 2.14 ERA) picked up the victory for Baylor, pitching 6 2/3 innings of shutout ball and striking out six Jayhawks.
Doug Dreher was the only Jayhawk to collect more than one hit, going 3-for-4 with two doubles.
Randall said Dreher benefited from following the team's plan of taking Scott's pitches to the opposite field.
"We needed to hit that guy the other way and we couldn't do it," Randall said. "Doug Dreher did it, Matt Tribble did it once and we got some hits that way, but we had to hit the guy to the opposite field and we kept striking out and popping up. We just couldn't execute the plan."
KU (14-13, 2-9) couldn't drive anyone home, leaving 11 runners on base, and had its best scoring opportunities in the fourth and fifth innings.
The Jayhawks had runners on first and second with one out in the fourth, but Matt Van Alsburg struck out and Brent DelChiaro was caught trying to steal third on the back end of the strike-him-out, throw-him-out double play.
With one out in the fifth inning, Jason Appuhn laced a double to left center and advanced to third base on Casey Spanish's groundout. John Nelson followed with one of his three walks and Ryan Klocksien lined a shot to centerfield that was caught by Durbin.
"That's the only ball we hit hard with men on base," Randall said. "Doug Dreher, he hit the ball hard today, and he had a good day but that's really all we had going."
KU will finish its series with Baylor at 1 p.m. today at Hoglund Ball Park. Doug Lantz (1-1, 3.72 and five saves) will start for the Jayhawks.
Copyright 2018 The Lawrence Journal-World. All rights reserved. This material may not be published, broadcast, rewritten or redistributed. We strive to uphold our values for every story published.