Despite a population boom and a high demand for day cares, Douglas County lost 13 child-care facilities last year.
New figures released this week by the Lawrence-Douglas County Health Department show that while dozens of new day-care facilities opened, more than 100 closed in 2000.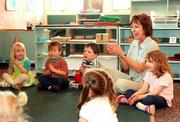 Tina Ferguson, the Health Department's child-care licensing coordinator, said history showed there was a lot of turnover for people who run day cares out of their homes.
"The reason for that is that individuals don't realize it takes a lot of time and commitment to run a successful day-care home," she said.
But, Ferguson said, the biggest impact in Douglas County came with the closing in August of Medallion School Partnerships, which had seven before- and after-school programs at Lawrence elementary schools. Medallion, a private entity based in Golden, Colo., served more than 120 children in Lawrence before it folded after five years.
Another care provider, the United Child Development Center at First United Methodist, 946 Vt., closed in May. Church officials, in a letter to parents, said the closing was necessitated because they could not staff the center to levels mandated by the Kansas Department of Health and Environment.
Overall in 2000 in the county, 34 licensed day-care homes closed while 33 new homes opened. Also, 57 registered homes opened, compared to 71 existing homes that closed. A licensed home can have as many as 10 children, depending on the ages, and is inspected annually and upon complaints by the department. A registered home can have a maximum of six children and is only inspected upon complaint.
The county now has a total of 300 child-care facilities compared to 313 in 1999.
Lawrence's Sunshine Acres Montessori Preschool & Child Care Center, 2141 Maple Lane, is one of the facilities that has survived.
Director Susan Mozykowski founded the school in her home in 1970 and is preparing to celebrate its 30th anniversary in May.
Mozykowski credits her faith in her religion and a rigorous teacher training program for the center's success.
"I believe God answers prayers and sends me wonderful people," she said. "The other thing is that we attract people who want to do a high quality educational job."
Mozykowski said her staff is compensated well and their salaries increase according to their training.
Often, Ferguson said, pay is an issue in child care and leads to turnover.
"Day care itself is not a lucrative biz," she said. "Those who stay in the business truly care about what they're doing and know the importance of having a positive environment for children."
Local and statewide efforts are being taken to help recruit and keep child-care providers.
Ferguson said KDHE is developing an orientation program for new and current providers so people have a better understanding of what is involved in child care before they even open their doors. She said the local department holds monthly pre-application meetings for potential providers, and staff is available for consultations or to make referrals to other services. She said some groups also offer scholarships or mini grants for professional development or equipment.
"It is a concern that we are losing good people in the profession, and that's why there are efforts being take to retain them and recruit members," she said.
Copyright 2017 The Lawrence Journal-World. All rights reserved. This material may not be published, broadcast, rewritten or redistributed. We strive to uphold our values for every story published.