Bostonn — A stubborn spring nor'easter lashed the winter-weary mid-Atlantic states and New England on Thursday, flooding rivers and bringing fierce wind, rain and snow.
The storm brought up to 10 inches of snow in parts of New Hampshire, Vermont and Maine, while much of Massachusetts and Rhode Island waded through as much as 4 1/2 inches of rain that flooded neighborhoods, closing roads and schools.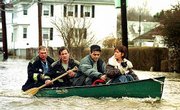 The storm system is the same one that battered parts of the Southeast earlier in the week.
Lake Placid, N.Y., got 15 inches of snow by midday Thursday. Slick conditions contributed to a serious accident that shut down a section of Interstate 490 west of Rochester during the morning rush hour. A tractor-trailer carrying drums of chemicals hit an abutment and rolled onto its side.
In the New York City area, heavy rain and gusty wind late Wednesday caused flight delays of up to 4 1/2 hours; more delays, up to 2 1/2 hours, were reported Thursday.
"The storm is far from over. It's still unfolding," said Bill Simpson of the National Weather Service in Taunton, Mass. "We were expecting a little more snow, but sometimes the difference between snow and rain is a little hard to forecast."
Heavy, wet snow spread across inland areas of Maine, while wind-whipped rain buffeted the coast, slowing traffic and closing schools in some districts, and meteorologists said higher elevation in New Hampshire could be buried under as much as 2 feet of snow.
Marshfield, Vt. farmer Duffy Gardner said the 10 inches of snow that fell made it difficult to continue his winter job of hauling logs out of the woods with his mules.
"My mules have decided that if the snow gets any deeper, they're not going to go to work anymore," said Gardner, 27.
Copyright 2018 The Associated Press. All rights reserved. This material may not be published, broadcast, rewritten or redistributed. We strive to uphold our values for every story published.