Washington — Unlike the Cuban missile crisis, the Bay of Pigs invasion did not put the world on the brink of nuclear war. It did trigger a warning from Soviet leader Nikita Khrushchev to President Kennedy that the invasion's impact could reverberate around the globe, according to newly declassified documents.
A day after the April 1961 invasion, with the outcome still in doubt, Khrushchev sent a letter to Kennedy with an "urgent call" to end the "aggression" against Cuba.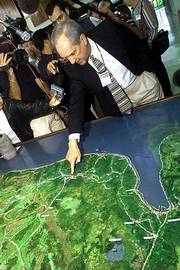 "Military armament and the world political situation are such at this time that any so-called 'little war' can touch off a chain reaction in all parts of the globe," Khrushchev wrote.
Responding the same day, Kennedy told Khrushchev he was under a "serious misapprehension" in regards to developments in Cuba. The invading refugees were simply trying to reclaim democratic liberties denied them by the Cuban revolution, Kennedy wrote.
At no point in the letter did Kennedy acknowledge any U.S. role in the invasion, which included financing, training and equipping the 1,500-member exile force.
The invasion collapsed the following day but it would not be the only time the Cuba issue generated tensions between the two leaders. The Cuban missile crisis was to occur almost exactly 18 months later.
The Kennedy-Khrushchev letters were among hundreds of previously classified American and Cuban documents released Thursday as a three-day Bay of Pigs review conference was opening in Cuba to mark the 40th anniversary of the Cuban triumph.
Besides loyalist Cubans involved in events of four decades ago, participants include officials of the Kennedy White House and some members of the brigade that took part in the invasion.
The conference is sponsored by the University of Havana and several Cuban government agencies, along with the National Security Archive, a George Washington University affiliate that specializes in declassifying foreign policy documentation.
Copyright 2018 The Associated Press. All rights reserved. This material may not be published, broadcast, rewritten or redistributed. We strive to uphold our values for every story published.