Indianapolis — Somebody forgot to tell the Magic and Pacers that the playoffs haven't started yet.
Reggie Miller scored Indiana's last five points and Indiana survived an intense second-half rally to defeat Orlando, 96-95.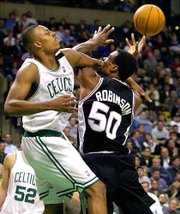 Miller scored 22 points to lead six Pacers in double figures.
The victory wasn't secured until Darrell Armstrong, who made three three-pointers in the final quarter and finished with 29 points and 12 assists, missed a three-point attempt from the right corner at the final buzzer.
Orlando used Armstrong's hot shooting to rally from an 18-point, third-quarter deficit.
"I hate losing, but that was fun; it really was," Orlando coach Doc Rivers said. "For our guys to come back like that, it was great. I told our guys that was very much like the way playoff basketball will be."
The fourth quarter lead seesawed until Miller made his shots and Armstrong missed his.
Austin Croshere scored 14 points for Indiana, Jermaine O'Neal scored 13, Al Harrington had 12 points and 12 rebounds, Jalen Rose added 12 points and 10 assists and Travis Best scored 10.
"Tonight was one of my nights," Miller said. "There's going to be others when it's going to be Jalen, and it could very well be Al or Jermaine. This is a team, it's a team game, and we're all going to have to pull our weight."
With Boston losing at home, the Pacers opened a one-game lead over the Celtics for the eighth and final playoff spot in the East.
Tracy McGrady scored 25 points for Orlando, and Mike Miller added 12.
Indiana was leading 69-51 with 5:20 to play in the third quarter when Orlando began its comeback.
Armstrong and McGrady scored four points each as the Magic went on a 17-5 run over the remainder of the quarter. McGrady hit two baskets and Armstrong added a three-pointer from the top of the key as the Magic scored the first seven points of the fourth quarter to take a 75-74 lead.
The teams swapped the lead before Miller hit a three-pointer from the top of the key for a 94-91 lead with 1:14 remaining. Michael Doleac and Miller traded free throws, Pat Garrity drove the baseline for a basket with 34 seconds left and Rose missed a short jumper before Armstrong's last shot bounced off the front of the rim as time expired.
Bucks 107, Lakers 100
Milwaukee Sam Cassell scored 27 points and Glenn Robinson added 26 as Milwaukee defeated Los Angeles to sweep the season series for the first time in a decade. Kobe Bryant had 13 points before falling hard to the floor in the final minute and injuring his leg. He went down after Shaquille O'Neal worked through a tangle of players for a dunk with 44.5 seconds left. Bryant had to be helped off the floor and into the locker room.
O'Neal had 36 points and made 12 of 15 free throws and Rick Fox added 19 points.
Ray Allen had 16 points and the Bucks were perfect from the free throw line, going 12-for-12 in the final 1:21.
Spurs 97, Celtics 77
Boston Terry Porter and Derek Anderson started hitting from long range as San Antonio, the NBA's best three-point shooting team, broke open a close game and beat Boston. The Spurs led 62-61 late in the third quarter when Paul Pierce and Antoine Walker, Boston's top scorers, went to the bench for a rest. From that point, San Antonio outscored Boston 35-16.
Hornets 111, Raptors 95
Charlotte, N.C. Jamal Mashburn scored 27 points and David Wesley added 26 to lead Charlotte over Toronto. Elden Campbell added 14 points for Charlotte, which improved to 3-1 against the Raptors this season with an average margin of victory of 25 points. Eddie Robinson came off the bench to score 13 points for Charlotte on 5-of-9 shooting, the 20th straight game he's shot 50 percent or better from the field.
Heat 109, Bulls 81
Miami Brian Grant scored 22 points to lead six players in double figures as Miami rolled over Chicago. Grant scored 14 of his points before halftime and finished 11-of-19 from the floor in 28 minutes. Anthony Mason followed with 15 points and 12 rebounds, and Tim Hardaway added 13 points as Miami won its fourth straight home game. The Bulls, who have a league-low 11 wins, dropped their 21st straight road game and eighth straight overall.
Timberwolves 109, Mavericks 97
Minneapolis Kevin Garnett made all nine of his shots in the first half and scored 28 points as Minnesota beat Dallas. Garnett's 9-for-9 shooting set a Timberwolves record for most field goals made in a half without a miss. He also had 15 rebounds and six assists. The Wolves, who never led in the teams' two previous meetings this season, never trailed in this one. Dallas had won the first two games by 20 points.
Wizards 99, Warriors 94
Oakland, Calif. Richard Hamilton scored 28 points and Courtney Alexander added a career-high 26 as Washington beat Golden State, sending the Warriors to their 11th straight loss. Antawn Jamison scored 23 points for the Warriors, who have lost nine straight at home. With the game tied at 87, the Wizards went on an 8-3 run.
Copyright 2018 The Associated Press. All rights reserved. This material may not be published, broadcast, rewritten or redistributed. We strive to uphold our values for every story published.