Two major college basketball programs hired head coaches on Wednesday.
Rick Pitino became Louisville's coach, returning to the state where he won a national championship in 1996. And Mike Davis, the coach who replaced Bob Knight in September, finally got the job he wanted when Indiana removed the "interim" tag from his title.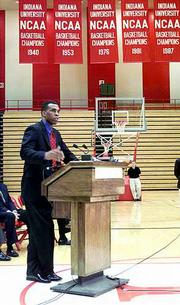 Meanwhile, Knight, 60, moved a step closer to being hired as coach of Texas Tech. University president David Schmidly said he plans to accept a recommendation from his athletics director to hire the former Indiana coach. Schmidly hadn't yet received a written recommendation from athletics director Gerald Myers, who has been friends with Knight for more than 30 years, but he expected to have it in hand before Friday.
At Louisville, Ky., Pitino and his family arrived to enthusiastic cheers at an evening news conference and pep rally to introduce him as coach.
"Now it's my time to lead the Cardinals back to prominence," Pitino said.
Pitino, who won a national title as coach of Kentucky, resigned as coach and president of the Boston Celtics in January after 31/2 disappointing seasons in the NBA.
His hiring at Louisville follows an aggressive courtship by athletics director Tom Jurich, who acted as a one-man search committee. Jurich said two weeks ago that Pitino was his only candidate for the job.
Pitino, who was courted by Michigan and other schools, said wife, Joanne, helped convince him to take the Louisville job.
He said she told him, "I think that you love the state of Kentucky; you love the people you met at U. of L. I think you should go back to the place you love."
Pitino, 48, said he almost decided to take the Michigan job. Instead, he replaces Hall of Fame coach Denny Crum, who retired after months of strained relations with Jurich. The 64-year-old Crum, who led Louisville to NCAA titles in 1980 and '86, had two seasons left on his contract, but accepted a $7 million buyout.
The Cardinals finished this season 12-19, capping the worst four-year run in Crum's 30 years.
Louisville is 62-62 since 1997 and was twice put on probation in the 1990s.
Jurich called a news conference March 6 to confirm he was pursuing Pitino. When Pitino expressed interest, some Kentucky fans were angered that Pitino would even consider coaching the Wildcats' rival.
"It's just going to be hard for a lot of Kentucky fans to take," UK guard J.P. Blevins said. "A lot of people know Coach Pitino is doing what he thinks is best and in his best interest. At the same time, it's just a tough pill for people to swallow."
Pitino has not signed a contract, but Jurich said he's agreed to a six-year deal, worth about $1 million per year.
At Bloomington, Ind., Davis agreed to a four-year contract that guarantees him at least $400,000 a year, the highest base salary for a coach in Indiana history.
Davis led the Hoosiers to a 21-13 record and a second-place finish in the Big Ten tournament. They were defeated by Kent State in the first round of the NCAA Tournament, fueling speculation that Davis would not become the permanent coach.
"I just felt like if they judged me on that one game, I wouldn't be here, anyway," he said.
Davis, 40, had been a Hoosiers' assistant coach, took over the team on Sept. 12, two days after University president Myles Brand fired the hot-tempered Knight for violating the school's zero-tolerance behavior policy. Players on the team threatened to quit if Davis wasn't given the job.
Knight, close to becoming the new coach at Texas Tech, was fired after grabbing a freshman to lecture him on manners. Davis said he has not spoken to Knight since he left Indiana.
At Lubbock, Texas, Schmidly said he expects the respect and admiration Knight has for Myers to prevent any outbursts like those reported during the coach's 29 years at Indiana.
Once Schmidly approves Myers' recommendation, Tech Chancellor John Montford will be asked to concur an action that is seen merely as a formality.
Montford then would be responsible for informing Tech's Board of Regents. The regents can approve or disapprove of any hire, but lack the power to veto.
Schmidly had a hour-long meeting with the faculty senate on Wednesday. During the meeting, faculty members asked questions about whether Knight would be treated differently from other faculty members, how university officials would handle any misbehavior, and how hiring such a controversial figure could affect the university's image. About 100 of the university's 900 faculty members have signed a petition criticizing Knight's behavior and advising against his hiring.
Knight has been the only candidate publicly mentioned as a successor to James Dickey. Knight was in Hutchinson on Tuesday and Wednesday, attending the NJCAA Tournament. Tech spokeswoman Cindy Rugeley said Knight has been told that he may be asked to come to Lubbock on Friday for a news conference.
Copyright 2018 The Associated Press. All rights reserved. This material may not be published, broadcast, rewritten or redistributed. We strive to uphold our values for every story published.