Topeka — Federal environmental officials said Wednesday they hope the state of Kansas can remain in charge of keeping the public's rivers and streams clean.
But officials of the Environmental Protection Agency said legislation being considered by Kansas lawmakers on water quality standards is raising concerns the federal government may have to take over.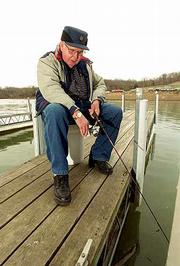 EPA officials stopped short of saying the federal agency would take over state enforcement responsibilities if their concerns aren't allayed.
"We're kind of in a holding pattern right now," said Cheryl Crisler, chief of water resource protection at EPA's regional headquarters in Kansas City.
But Charles Benjamin, attorney for the Kansas chapter of the Sierra Club, said if EPA concludes the state is not enforcing the federal Clean Water Act, it could take responsibility from the state for issuing wastewater permits.
"That would be the ultimate hammer," he said.
Crisler said the EPA and Kansas Department of Health and Environment have been talking about how state water pollution guidelines could comply with federal law.
The talks began last summer, after EPA announced rules it would put in place if KDHE did not change its system of regulating water quality. The rules were part of a settlement with environmentalists and others concerned about state water quality. The environmentalists sued the EPA to make Kansas enforce federal water pollution guidelines.
Since then, the Graves administration and EPA have been in negotiations, which were going well, EPA officials said.
But when the legislative session started, lawmakers representing agricultural interests designed legislation that officials with KDHE say would hamper Kansas' compliance with federal law.
"Kansas has got to figure out what they are willing to do and not willing to do," Crisler said. She expressed concern that one part of the bill would allow the state to downgrade the water quality standards for some streams without having to produce appropriate scientific analysis.
Aside from the substance of the bill floating through the Legislature, Crisler said negotiations have been hampered because KDHE officials must spend a lot of time analyzing the bill and preparing testimony about it for the Legislature.
"They seem to be immersed in dealing with the various issues," she said.
Sen. Derek Schmidt, R-Independence, the bill's sponsor and chairman of the Senate Agriculture Committee, said he had been assured by Gov. Bill Graves' office that time spent on the water quality legislation was not keeping administration officials from negotiating with the EPA.
Graves said he believed negotiations were going slowly because of the change of administrations at the federal level. The Bush administration has not yet appointed a chief for the regional EPA office.
"They (EPA) are taking a cautious, careful approach as the new people come on board," Graves said. "We're unsure of exactly how what we are proposing to do ... jibes with what the Bush administration (policy) will eventually be."
But EPA officials say lack of a director has had no effect on their work. The agency, they say, is accustomed to leadership transitions and continues to work through them.
Copyright 2018 The Lawrence Journal-World. All rights reserved. This material may not be published, broadcast, rewritten or redistributed. We strive to uphold our values for every story published.