The legendary Chief Red Cloud becomes the 23rd addition to the Nebraska Hall of Fame Thursday and Lawrence artist Jim Brothers made the sculpture that will honor the Oglala Lakota leader.
Brothers said he tried to capture the essence of a proud American Indian warrior in his latest sculpture. The bronze bust will be placed in the Nebraska capitol building during the induction ceremony.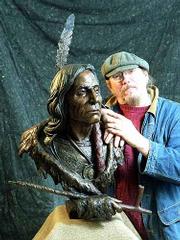 "He was proud of his accomplishments, including capturing horses and the Indian battles he fought," Brothers said of his subject. "He was the only Native American to win a war against the United States government."
In the late 1860s, Red Cloud forced the government to abandon the Bozeman Trail that crossed lands claimed by the Lakotas. He negotiated the Fort Laramie Treaty that set aside a vast reservation for his people in western South Dakota. Red Cloud's peacetime agency, which looked after Lakota interests, was located in northwestern Nebraska from 1873 to 1878.
Brothers had to compete for the right to create the bust by submitting his rmnd other information. He learned several months ago that he had been selected for the project by Nebraska officials. He then set about doing research into Red Cloud's history and persona.
"He was one of the more famous chiefs and he was fairly well photographed," Brothers said. "You try to get to know your subject as well as you can."
Brothers decided on a bust that would show Red Cloud as he looked at the age of 50. The bust portrays him as a veteran warrior, but also shows him wearing the peace medallion he earned from the Fort Laramie Treaty and holding a peace pipe.
Many of Red Cloud's descendants will be present at Thursday's ceremony, said Marcia Friesen, a spokesperson in Nebraska Secretary of State John Gale's office. Brothers also plans to be there.
None of Red Cloud's descendants have seen the bust, Friesen said.
"It will be unveiled at the ceremony," she said. "That's part of the excitement."
Red Cloud's bust will join those of 22 other noted Nebraskans.
Copyright 2018 The Lawrence Journal-World. All rights reserved. This material may not be published, broadcast, rewritten or redistributed. We strive to uphold our values for every story published.