Bill Self knows Kansas basketball.
Self, the University of Illinois' head basketball coach, loves Kansas basketball.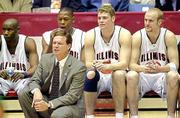 "It's one of my favorite programs and one of my favorite places," the 38-year-old Self said of KU and Lawrence, where he lived during the 1985-86 season when he was a graduate assistant on Larry Brown's staff. "It was one of the best years of my life. I just loved it there. I didn't deserve to get that Kansas job."
Self, 38, coached KU's junior varsity team with R.C. Buford to a 12-7 record.
A former Oklahoma State player, Self says he received a job offer from Brown in a roundabout way. Self drove to Lawrence in 1984 between his junior and senior year to work Brown's basketball camp.
Self was injured during the camp.
"I hurt my knee and coach Brown felt really bad," Self said. "He felt sorry for me and said to give him a call if there was anything he could do for me."
Self took up Brown on his offer, phoning KU's coach and asking him for a grad assistant job.
"He said, 'You got it,'" Self explained. "I never heard from him again, so I just moved up there."
Brown was a man of his word and added the Edmond, Okla., native to his KU staff after Self moved into a Lawrence apartment and wandered up to the Jayhawk basketball offices to say he'd arrived.
That season, KU reached the Final Four.
"He's the best," Self said of Brown. "KU goes 35-4, I get to go to the Final Four, sit on the bench and enjoy it. I owe so much to him."
The Jayhawks fell to Duke that year in the national semifinals in Dallas.
Self also is as big a fan of KU's current coach, Roy Williams.
"He is class. His program is class," Self said.
Self has had an up close and personal view of the Jayhawk program the past several years. He worked as an assistant coach to both Leonard Hamilton and Eddie Sutton at Okie State in 1986-93.
After that, Self recorded a 56-53 record in four years as head coach at Oral Roberts and 74-27 mark in three years at Tulsa before replacing Lon Kruger at Illinois last summer.
"I knew we were going to play Kansas this season. I did not know it'd be in San Antonio," Self said. "When I was at Tulsa, we were scheduled to play KU this year at Allen Fieldhouse.
"I'd much rather face 'em in San Antonio than Allen Fieldhouse," he added with a grin.
KU clubbed Buzz Peterson's first Tulsa team, 92-69, this past Dec. 12 at Allen Fieldhouse. Meanwhile, Self has compiled a 24-7 mark at Illinois.
"It's great playing Kansas. I don't like playing Kansas with three guys over 6-10 and the great perimeter game they have," Self said.
Illinois is led by sophomore point guard Frank Williams, who averages 14.9 points and 4.3 assists per game. Sophomore forward Brian Cook, whose dad is ex-Jayhawk Norm Cook, adds an average of 11.3 points and 6.1 boards game, senior center Marcus Griffin averages 12.0 points and 6.3 boards, senior forward Sergio McClain 7.5 points, 5.5 boards and 2.9 assists and junior Cory Bradford 9.6 points and 2.7 boards.
Bradford has hit 59 of 163 threes for 36.2 percent.
"Illinois has a great team. They're the No. 1 seed," KU point guard Kirk Hinrich said. "We played them last year. They've basically got the same team. We know how good they are."
The Fighting Illini, then coached by Lon Kruger, stopped KU, 84-70, last year at Chicago's United Center. Bradford hit five of 13 threes and tallied 21 in that game. Griffin scored 16 with 12 boards, while Williams had eight assists and 15 points.
Jeff Boschee hit six threes for 18 points, while Drew Gooden had 15 for KU.
Monkey business
Everybody knows about the toy monkey KU's players knocked off Roy Williams' back at a team meeting Saturday night. On the court Sunday, KU beat Syracuse and advanced to the Sweet 16 for the first time in four years, caging the "monkey" that hexed Williams.
Illinois can relate to the monkey analogy. On Sunday, the Illini beat Charlotte to advance to the Sweet 16 for the first time in 12 years.
"Ours is a huge ape," Bradford quipped. "It's been on our shoulders a while."
KU had its monkey feel-good story last weekend, and the Illini had their own. Most of the players shaved their heads prior to heading to Dayton.
"It's my idea and Cory's," Williams said. "We got the 'whip' going in our hotel room. If you want a cut, meet me in the room tonight," he quipped to a television reporter.
Copyright 2018 The Lawrence Journal-World. All rights reserved. This material may not be published, broadcast, rewritten or redistributed. We strive to uphold our values for every story published.