New Orleans — Half of last year's Final Four flopped Sunday.
North Carolina and Florida were eliminated in back-to-back shockers in the second round of the NCAA Tournament.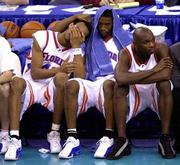 Seventh-seeded Penn State beat the No. 2 Tar Heels 82-74 in the New Orleans Superdome right after No. 11 Temple took care of the No. 3 Gators 75-54 on the same court in the South.
Penn State, in the round of 16 for the first time since 1955, plays Temple on Friday in Atlanta.
Temple used its trademark matchup zone defense to shut down Florida's up-tempo shooters and shut off passing lanes. With six minutes left, the Gators had only 13 baskets and 11 turnovers.
"We've been walking a tight wire for the last 4-to-5 weeks," Temple coach John Chaney said.
"With what they've accomplished, I've got to applaud them."
Top-seeded Michigan State, which defeated Florida in the 2000 NCAA title game, and No. 12 Gonzaga also advanced in the South.
Florida's point total matched the lowest in coach Billy Donovan's five years at the school. The Gators (24-7) shot only 18-for-50 overall, including 8-for-29 on three-pointers.
"They've got a really active zone," Donovan said. "We took some long, ill-advised threes."
Quincy Wadley had 24 points and 10 rebounds for Temple (23-12). Scoreless for the opening 11 minutes, he sparked a 14-0 run late in the first half that put the Owls in front for good.
Lynn Greer had 20 points and nine assists for Temple. Alex Wesby added 13 points and Kevin Lyde had 11.
Udonis Haslem had 16 points for Florida, Matt Bonner had 13 points and 11 rebounds and Brett Nelson had 12 points.
Michigan St. 81, Fresno St. 65
Memphis, Tenn. The Spartans (26-4) had eight players score six or more points and moved into the round of 16 for the fourth consecutive year, tying Duke for the longest current streak. Michigan State held the Bulldogs (26-7) 17 points below their season average and dominated the rebounding, 48-32.
Gonzaga 85, Indiana State 68
Memphis, Tenn. Casey Calvary scored 24 points and Dan Dickau added 20, making all 12 of his free throws, for Gonzaga (26-6). Matt Renn's three-pointer for Indiana State (22-12) tied the game at 60 with less than eight minutes left, but Dickau answered with a jumper and two free throws to put Gonzaga ahead to stay.
Copyright 2018 The Associated Press. All rights reserved. This material may not be published, broadcast, rewritten or redistributed. We strive to uphold our values for every story published.