Orlando, Fla. — Tiger Woods wasn't about to let one bad swing keep him from where he wanted to be in the lead Saturday at the Bay Hill Invitational, and in position to win for the first time this year.
After hitting into the water and making bogey on the easiest hole at Bay Hill, Woods made an immediate and spectacular recovery. He hit a 4-iron from 210 yards into a stiff breeze to about 10 inches on the par-3 17th and wound up with a 6-under 66.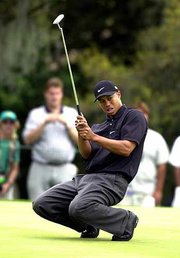 That was enough to give him a one-stroke lead over Sergio Garcia going into the final round, which will start early today because of an approaching storm system.
Woods was at 12-under 204, and had the outright lead after 54 holes for the first time in 10 PGA Tour events, dating to the NEC Invitational in August.
Garcia, who beat Woods in a made-for-TV match play event in California seven months ago, hit his approach into the 18th hole to about 4 feet for birdie and had a 68.
But this will hardly be a match-play situation.
Chris Perry had a 69 and, at 206, will join Woods and Garcia in the final group.
Another stroke back was Masters champion Vijay Singh, while a large group at 208 includes Phil Mickelson and Greg Norman, playing his first PGA Tour event this year.
Scott McCarron had a chance to catch Woods until hitting into the water on the 18th hole and taking triple bogey to fall back into the large group at 208.
Conditions were perfect, with a cloud cover keeping the course soft and a breeze slowly gaining strength as the afternoon wore on. Only 22 of the 71 players failed to break par.
Copyright 2018 The Lawrence Journal-World. All rights reserved. This material may not be published, broadcast, rewritten or redistributed. We strive to uphold our values for every story published.