Keith Nelson, Lawrence High's third head coach for girls soccer in as many years, has learned a lot about his squad in 21/2 weeks of practice.
"I think we have a pretty athletic team, they're really coachable and are willing to learn," said Nelson, who coached the LHS boys to the state soccer quarterfinals last fall. "They've picked up stuff real quickly. The attitude's been great. They're sponges for knowledge. They want to learn the game. They've learned faster than I expected them to."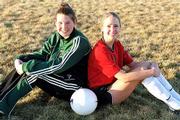 The Lions were scheduled to open tonight against Topeka Seaman. Because of the threat of inclement weather, that game has been postponed until April 6 at Youth Sports Inc. fields. LHS now will open March 27 at Blue Valley North.
The Lions, who finished 3-13-1 last season, spent the first week of practice inside because of inclement weather. Since going outdoors in the second week, Nelson has implemented an aggressive offense.
"I'm teaching them a lot of attacking patterns," Nelson said. "In the past they've done a lot of defending. I haven't focused on a lot of defending as of yet. I'm trying to encourage them to spread the field, use the entire width and depth of the field."
Nelson has 19 players on varsity five seniors, seven juniors and seven sophomores.
"I think this is going to be a very deep team," Nelson said.
A couple of sophomores Lindsay Garito and Kara Roelofs have impressed Nelson the first two weeks of practice.
"Lindsay is a phenomenal athlete," Nelson said. "She's real versatile. We can use her back as a defender or as a forward.
"Kara has shown a lot of potential. She'll probably play center-midfielder."
Two juniors Bliss Lemon and Sarah Butler also have stepped up for the Lions, Nelson said.
Nelson said there should be some carryover from last season when several underclassmen gained varsity experience.
"I know toward the end of the year several of these players earned starting roles," Nelson said.
The Lions have 59 girls out for soccer. LHS will field a varsity, junior varsity and C-team this spring.
"I'm willing to bet most of my starters if not all are year-around players," Nelson said. "We're experiencing an evolution in Lawrence soccer. In the past, you went against Johnson County teams whose junior varsity subs were year-around players and it was hard for us to get 11 varsity starters that played year around. I think soccer is gaining popularity in this town."
LHS, now in its ninth year with soccer, has an all-time record of 23-95-7.
Copyright 2018 The Lawrence Journal-World. All rights reserved. This material may not be published, broadcast, rewritten or redistributed. We strive to uphold our values for every story published.