Coral Springs, Fla. — Mark Calcavecchia and Geoff Ogilvy were frustrated after the final round of the Honda Classic. Jesper Parnevik was relieved.
Parnevik shot an even-par 72 Sunday, closing at 18 under and beating Calcavecchia, Ogilvy and Craig Perks by a stroke for his first win of the season on the PGA Tour.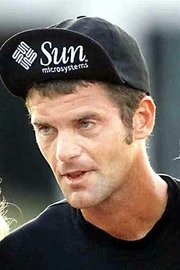 "I'm obviously pretty disappointed right now," said Calcavecchia, who missed a 15-foot par putt on No. 18 that would have forced a playoff with Parnevik. "I goofed. I had my chances. I'm not going to say Jesper didn't deserve to win, but I blew it."
Calcavecchia (70), Ogilvy (69) and Perks (66) finished in a three-way tie for second place. Each of the top four finishers bogeyed the par-4 No. 18.
Ty Tryon, a high school sophomore and the second-youngest player to make the cut in a PGA Tour event, shot a 68 and wound up 10 under in his debut. He finished tied for 39th. Tryon would have made $12,480 for his showing but collected nothing because of his amateur status.
Parnevik earned his fifth PGA Tour victory and $576,000.
Copyright 2018 The Lawrence Journal-World. All rights reserved. This material may not be published, broadcast, rewritten or redistributed. We strive to uphold our values for every story published.