Chicago — Dave Stagl is the proud and lucky owner of tickets to two of U2's four Elevation Tour concerts scheduled at Chicago's United Center in May.
He's charged up about the hotly anticipated shows, but the Irish rock band's festival seating or open-floor admission policy is making him uneasy.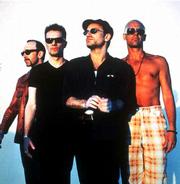 "The reality is that the so-called 'best spots' are up for grabs on a first-come, first-served basis, and it only takes a few (people) trying to push their way ahead to start a riot," said Stagl, 26, an audio engineer and musician from Streamwood.
Stagl's concerns are echoed by critics who warn that the phrase "festival seating" is a misnomer for a plan that in fact doesn't offer seats, but merely standing room on the main floor facing the stage. They say it can force unsuspecting patrons into chaotic crowd situations where they risk injury and death.
The open-floor plan for 39 North American arenas was mandated by U2 and its promoter, New York-based SFX Entertainment, because they say it is best suited for the band's still-unrevealed stage design. Open-floor tickets are $45 through official ticket outlets; reserved seat prices are $85 and $130.
Furthermore, they say, fans prefer the setup because it offers a rare opportunity to get close to performers.
Concert safety entered the public consciousness in 1979 when 11 people were killed in the crush to enter a concert by The Who at Cincinnati's Riverfront Coliseum. The incident prompted the city to pass an ordinance banning open-floor concerts, which still stands.
The subject has recently resurfaced with February's crushing death of a girl at a Limp Bizkit concert in Australia and last year's trampling deaths of nine people at a Pearl Jam concert in Denmark.
U2's open-floor plan "offers an intimacy between the band and the audience that U2 finds desirable," SFX executive Arthur Fogel said in a written statement. He added: "We are able to price the tickets considerably lower than reserved seating."
U2's publicist and officials at Interscope Records, the band's label, did not return calls for this report.
But U2 frontman Bono earlier this year expressed excitement about the open-floor arrangement for the tour, which opens on March 24 in Miami. Speaking on MTV's "TRL," he said: "There's no seats in front of the stage. The best seats are actually the cheapest seats in the house, and that's right in front of us."
U2 is not alone in its wishes for open-floor concerts. A 10-year ban on open-floor admission at Chicago's Soldier Field was lifted for Pearl Jam's performance there in 1995.
About 20,000 fans are expected for each of U2's concerts at the United Center the first-ever open-floor music events there. Although United Center's grandstand seats are reserved, about 2,000 people have bought festival tickets for the floor level, which will have no chairs.
By eliminating seats, the arena can increase by 30 percent the size of the audience on the floor, according to the center's director of box office operations, Jim Bare.
"They wanted that for their audience, where people can get the cheapest ticket price and the best seats in the house," Bare said. "Hey, most big bands charge top price for all the seats whether reserved or not."
The industry has failed to create standards, he said, because in doing so it would have to admit responsibility for fan safety. Where open-admission is limited, rules are often ignored, he said, noting that three teens were killed at a 1991 AC/DC concert in Salt Lake City, despite that city's 1982 ban on open-admission style shows.
In 1997, 19 people were killed at concerts worldwide, according to Crowd Management Strategies figures. And it says the number of deaths and injuries is continuing to escalate.
Paul Natkin, one of Chicago's premier concert photographers, who has been on the front lines of more than 5,000 concerts, paints another picture.
"I stand in front of the stage and barricade, and whenever I go to a show where there are no seats on the floor it looks like everybody in that audience is in total agony," he said. "They're continually having to be pulled out of the crowd and taken into the back to get air or water or whatever."
But the Chicago U2 concerts, scheduled for May 12-16, should run smoothly if handled with the proper security preparation, Natkin said.
U2 fan Stagl, too, said he doesn't anticipate mayhem at the concerts. "Generally I think U2's audience is pretty smart," he said.
Stagl still opted for what he considers safer reserved seats, shelling out a hefty $450 for four tickets. "I know it's a lot," he said. "But I want to see them."
Copyright 2017 The Lawrence Journal-World. All rights reserved. This material may not be published, broadcast, rewritten or redistributed. We strive to uphold our values for every story published.