New York — Matthew Propp grew up thinking that was his name, but when he applied for a job with the New Mexico prison system last summer, a search for his birth certificate began to unravel the truth.
He had been kidnapped as a baby two decades ago and raised by another couple.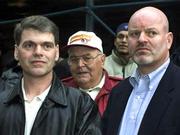 The people he knew as parents Bennett and Mary Propp were actually artisans Barry and Judith Smiley, who say they ran off with him at 15 months when adopting him fell through.
So, on Thursday, as Propp born Anthony Joseph Russini turned 22, he watched the only father he's ever known surrender to New York authorities and plead innocent to a charge of kidnapping on a warrant issued in 1980.
Smiley's wife was recovering from knee replacement surgery in Albuquerque, N.M. Her court date has not been set yet, said Steven Brill, a court-appointed lawyer.
On Friday, Barry Smiley remained in jail on $25,000 bail. If convicted, the Smileys each face up to 25 years in prison.
Meanwhile, Propp's biological father, Anthony Russini, who with his ex-wife Deborah Gardner spent tens of thousands of dollars on a fruitless search for their child, is still reeling from the shock.
In a reunion last week arranged by prosecutors, Russini greeted Propp with a simple, 'I love you.' Gardner, who now lives in the Miami area, declined to attend.
While Propp acknowledged his birth ties, he said he wouldn't trade his upbringing.
"Obviously, I was a little shocked, but I can't say I'd change anything about my past," he said, calling the Smileys "great people."
"They have never treated me bad a second of my life," he said.
On Friday, the "adoptive" and biological fathers sat two feet apart and avoided eye contact during another court appearance in Queens. Each man stood and told the judge that he was Propp's father.
Hearing the alleged kidnapper say that was heartbreaking, Russini, a plumber from Long Island, said tearfully afterward. "He's not his son; he's my son."
But a former neighbor warmly recalled the adoptive family.
"They are good people. They were great parents to the baby," said Richard Rada, a neighbor 20 years ago. "When the baby cried, they cried. When the baby laughed, they laughed."
The Smileys say they left Queens on June 6, 1980, the day they were ordered by a judge to return the child to his biological parents. An earlier judge had voided the adoption, saying Gardner's father coerced her consent.
The Smileys settled in New Mexico and earned a living making handicrafts. Their attorneys say the couple had no malicious intentions.
"Her intentions from the very beginning were to do what she thought was in the best interest of this child," Brill said. "At that point, her child was going to be ripped from her. Her feeling was that to give the child back to the biological parents placed him in some type of danger."
"Put yourself in their shoes," lawyer Eugene Sarchiapone said. "They've had the baby since he was 3 days old; and when he's 15 months old, all of a sudden a court says give up the baby. They just couldn't do that."
Propp referred requests for comment Friday to his attorney, Fred Martinez, who did not return calls.
Copyright 2018 The Associated Press. All rights reserved. This material may not be published, broadcast, rewritten or redistributed. We strive to uphold our values for every story published.