Chicago — Michigan State might have cost itself a No. 1 seed.
Joe Crispin made an off-balance three-pointer with 21 seconds left, then sealed Penn State's victory with a pair of free throws as the Nittany Lions upended the Spartans 65-63 in the quarterfinals of the Big Ten tournament Friday night.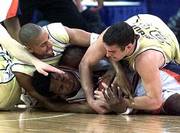 "Do I think we're deserving of a No. 1 seed? I don't know who else is going to lose. I would say probably not," Michigan State coach Tom Izzo said. "Do I think we're deserving of a No. 2 seed? Yes, and maybe a No. 1 if the right teams lose."
It was an ugly effort from the second-ranked Spartans (24-4), who had won a share of their fourth consecutive regular-season title and were looking for their third straight tournament crown.
Penn State scored 21 points off 17 Spartan turnovers. Michigan State also was hampered by 16-for-30 shooting from the free-throw line.
The Spartans are the highest-ranked team Penn State (19-10) has ever beaten. The victory might have sealed an NCAA bid for the seventh-seeded Nittany Lions, who were on the bubble after losing three of their last four regular-season games. Crispin finished with 22 points.
No. 3 Duke 76, NC State 61
Atlanta Duke forgot its home uniforms, but the Blue Devils didn't miss a beat in the ACC tournament. Jason Williams scored 10 of his 19 points during a 15-0 first-half run as Duke (27-4) began defense of its ACC title. The win was Duke's 10th straight over the Wolfpack (13-16), seventh straight in the ACC postseason and moved coach Mike Krzyzewski within two of No. 600 for his career. Chris Duhon made his second start in place of injured center Carlos Boozer and had 14 points and six rebounds.
No. 4 Illinois 83, Purdue 66
Chicago Frank Williams scored 13 points and dished out a season-best 11 assists as Illinois cruised into the semifinals of the Big Ten tournament. The top-seeded Illini (24-6) will play Indiana in today's semifinals. The Boilermakers (15-14) will await a call from the NIT.
No. 5 Florida 69, Alabama 61
Nashville, Tenn. Matt Bonner had 22 points and 11 rebounds, and Brett Nelson added 19 points as Florida advanced to the SEC semifinals. Florida (23-5) will play No. 14 Mississippi in the semifinals today.
No. 6 North Carolina 99, Clemson 81
Atlanta Jason Capel made all six of his three-pointers and scored 23 points as the Tar Heels (24-5) advanced to the ACC semifinals. UNC avenged a loss to Clemson last month that snapped its 18-game winning streak and knocked them out of the top spot in the rankings.
No. 10 Boston College 75, Seton Hall 48
New York Troy Bell scored 24 points as Boston College (25-4) advanced to the Big East championship game.
No. 11 Maryland 71, No. 22 Wake Forest 53
Atlanta Maryland won its sixth straight, routing Wake in the ACC quarterfinals. Maryland (21-9) has defeated five ranked teams on its streak, including Wake (19-10) twice.
Georgia Tech 74, No. 12 Virginia 69
Atlanta Alvin Jones scored 20 points, grabbed 12 rebounds and blocked six shots as the Yellow Jackets (17-11) made a statement in their bid to reach the NCAA tournament for the first time since 1996.
No. 14 Mississippi 86, Tennessee 73
Nashville, Tenn. Aaron Harper scored 21 points, and Rahim Lockhart added 17 to lead Mississippi (24-6) into the semifinals of the SEC tournament. Ron Slay scored 20 points for the Vols (22-10).
No. 15 Kentucky 78, South Carolina 65
Nashville, Tenn. Keith Bogans hit five three-pointers and scored 23 points as Kentucky (20-9) moved into the SEC semifinals. South Carolina (15-14) has lost 10 straight times to Kentucky.
Pittsburgh 55, No. 17 Syracuse 54, OT
New York Isaac Hawkins' free throw with three seconds left in overtime gave Pittsburgh a victory over Syracuse in the Big East semifinals.
Massachusetts 75, No. 21 St. Joseph's 70
Philadelphia Monty Mack scored 27 points to lead UMass (15-14) to the Atlantic 10 championship game for the first time since 1996. Marvin O'Connor scored 26 points to lead St. Joseph's (25-6).
Indiana 64, No. 23 Wisconsin 52
Chicago Kirk Haston scored 19 points and Indiana held Wisconsin without a field goal for almost 141/2 minutes as the Hoosiers cruised into the Big Ten semifinals. Indiana (20-11) has won eight of its last 10.
Iowa 75, No. 24 Ohio State 66
Chicago Ken Johnson, a two-time Big Ten defensive player of the year, had to sit with foul problems and Iowa (20-11) rallied from a 13-point deficit in the second half to stun the Buckeyes (20-10) in the Big Ten quarterfinals.
Hawaii 76, No. 25 Fresno State 67
Tulsa, Okla. Predrag Savovic scored 23 points and Hawaii (16-13) held off Fresno State (25-6) in the WAC semifinals.
Copyright 2018 The Associated Press. All rights reserved. This material may not be published, broadcast, rewritten or redistributed. We strive to uphold our values for every story published.