Not bad for a Kansas University-Missouri baseball series opener.
The Jayhawks scored three runs in the bottom of the sixth inning to break a 4-all tie en route to a 7-4 Big 12 victory over the Tigers on Friday at Hoglund Ballpark.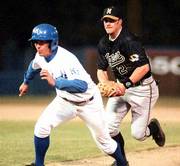 "The first game in the series is always a big game," said KU coach Bobby Randall, whose squad improved to 8-7 overall and 2-5 in the Big 12. "And I felt before the game we were ready to play. More importantly, they felt ready to play."
KU bolted to a 4-0 lead, scoring three runs in the bottom of the second and one in the bottom of the third.
In the second inning, the Jayhawks hit four consecutive singles for two runs. KU first baseman Matt Tribble stole home for the third run when teammate Jason Appuhn was caught in a rundown between first and second base following a pickoff.
In the top of the sixth, Missouri scored four runs off KU lefty Pete Smart to tie. Randall pulled Smart after the inning, replacing him with Doug Lantz.
Smart allowed nine hits and struck out four in six innings.
"Pete was just out of gas," Randall said. "I should've thought about it sooner. And it would've been a mistake for me to put him back out there. We were better off with a fresh arm."
Lantz threw three shutout innings for his fifth save. Smart was the winning pitcher, improving to 4-0.
"Lantz has five saves now, and that's pretty incredible," Randall said. "He got in there and shut 'em down and didn't allow them to score."
Appuhn, John Nelson and Doug Dreher delivered RBI singles for KU in the bottom of the sixth.
Tribble and Dreher had three hits apiece to lead the Jayhawks' offense.
"I'm still trying to get my timing down," said Tribble, who went 3-for-4 with two runs and an RBI. "I haven't been seeing the ball real well lately, and I just tried to get in there and settle down. I'm not playing as well as I think I can."
Missouri (5-8-1, 2-6) and Kansas had 12 hits apiece all singles.
"I would like for us to get more hits than them," Randall said, chuckling.
KU and Missouri will play today and Sunday in Columbia, Mo.
"All we have to do now is have confidence," Tribble said. "We know we can do it, we just have to get back into it and win."
Copyright 2018 The Lawrence Journal-World. All rights reserved. This material may not be published, broadcast, rewritten or redistributed. We strive to uphold our values for every story published.