New York — Snitching. Squealing. Ratting. Whatever term is in vogue, the taboo against informing on schoolmates endures even when silence has deadly consequences.
Educators see a few signs of change, however, as they try to persuade America's students to take the lead in making their schools less vulnerable to violence.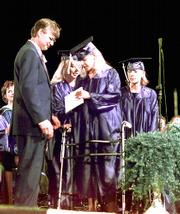 Since Monday's shooting in Santee, Calif., authorities nationwide have investigated a wave of threats at other schools, often acting on tips from students. Experts hope a lesson emerged from Santee, where friends of suspect Charles Andrew Williams heard his threats but sounded no alarm before he allegedly killed two schoolmates and wounded 13.
"If that's an outcome of these tragic events a greater willingness to report it's something positive coming out of a very sad chapter," said Ted Feinberg, assistant executive director of National Association of School Psychologists.
One such case occurred this week in Davenport, Iowa, where a girl from Assumption High School reported that a ninth-grader had threatened to shoot everyone at school. The boy was arrested, and the girl was commended anonymously at a school assembly.
"The right thing was done," principal Thomas Sunderbruch said. "We've made every effort to let students know that some of these things such as Columbine wouldn't have happened if someone had reported ahead of time."
The campaign to encourage student informers took shape after the April 1999 massacre at Columbine High School. Several states and many school districts established hot lines so students could phone in security tips anonymously; schools deployed "confidential counselors" to whom students could turn with assurances of discretion.
But the decision to inform can still be wrenching.
Jim Holloman, principal of Royal Valley High School in Hoyt, Kan., encouraged a sophomore girl to take some time away from school after she alerted staff members last month to a possible Columbine-style plot.
"I know she had to struggle to determine whether it should be reported," said Holloman, who praised her.
Copyright 2018 The Associated Press. All rights reserved. This material may not be published, broadcast, rewritten or redistributed. We strive to uphold our values for every story published.