Frankfurt, Germany — Europe is the last frontier for one of America's greatest commercial icons.
But can Starbucks Coffee Co. make it in the homeland of the leisurely street cafe? Is it even possible to sell Italians more double-shot espressos or make the French drink skim milk cafe au lait out of a paper cup?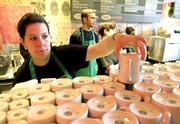 After building a caffeine empire that stretches from Seattle to Shanghai to Dubai, Starbucks finally waded into continental Europe this week, opening a shop Thursday in Zurich, Switzerland, the first of 650 stores Starbucks says it will open in six neighboring countries by 2003.
Until now, Starbucks has cashed in on bringing Seattle-style coffee culture to countries where coffeehouses were seen as exotic, even European, imports the United States, Japan, Britain and even Thailand and Saudi Arabia.
But Europe itself is new territory for the Seattle-based retailer. And even chairman Howard Schultz admits hawking coffee on the continent can butt heads with Europe's proud coffee heritage, fussy tastes and aversion to U.S. commercialism.
"Before we came to the continent, we had to understand how the brand would coexist with the very strong coffee culture," Schultz said Thursday in a telephone interview from Hamburg, where he was speaking at a culinary convention and checking out the German market.
"The Europeans, in particular, are quite pleasantly surprised when they taste Starbucks for the first time, because American coffee has had a bad reputation for so long," he added.
So far, the signs look good, said Karin Vogt, spokeswoman for the new Zurich Starbucks, which is near the main train station and the university.
"People were lining up to get in even before we opened at 6:30," she said.
Continental inroads
Starbucks has 665 stores outside North America and 3,302 in its domestic market.
Over the next year, Schultz said he hopes to have 10 more stores in Switzerland, which is considered a good test market for Europe because it mixes German, French and Italian culture.
Then Starbucks plans to focus on the rest of the continent, which has some of the highest rates of coffee drinking in the world.
On the continent, where mom-and-pop coffee shops dominate the caffeine scene, mega-chains like Starbucks are nearly unknown, although entrepreneurs are already trying to tap what they see as the next big trend.
"The whole specialty coffee thing incorporating takeaway virtually doesn't exist," said Peter Joos, an American who founded a chain of Starbucks-inspired coffee shops, called Frazer Coffee, in Frankfurt. "We didn't see the Starbucks model, so we started it."
Price is one hurdle. European coffee drinkers are used to paying as little as 30 cents for an eye-opening shot of espresso at their corner cafe. That compares with $1.75 at a place like Frazer.
Wanting a different blend
Europeans are also unsure about Starbucks' cookie-cutter approach, which like that of fast food giant McDonald's, tries to make the Starbucks worldwide nearly identical, from the Frappuccino on the overhanging menu boards to the logo-emblazoned napkins at the condiment stands.
"The people who come into traditional coffee houses want a different atmosphere, an atmosphere of coziness and quiet," said Ron Puttendorfer, manager of Cafe Moehring in Berlin's trendy Mitte district the only remaining location for a local chain established 103 years ago.
Cafe Moehring's etched glass windows and small marble tables make it feel like Grandma's house, in stark contrast with the hallmark high ceilings, plate-glass windows, and relaxing jazz music that have been Starbucks' winning formula around the world.
While there will always be room for local players and traditional coffee houses like Cafe Moehring, retail experts see no reason why Starbucks' won't be able to extend its success to the European continent.
"They bring a superior product and excellent consistency," said Laurie Breidenbach, an analyst with Ragen MacKenzie in Seattle. "There are lots of mom-and-pops out there, but can you go from city to city and be guaranteed the same good cup of coffee?"
Copyright 2018 The Associated Press. All rights reserved. This material may not be published, broadcast, rewritten or redistributed. We strive to uphold our values for every story published.