The fall of communism also meant the fall of technology research in Russia.
So on Friday, 10 entrepreneurs from the Russian telecommunications industry were at Kansas University seeking to develop research without government funding driven by Cold War competition with the United States.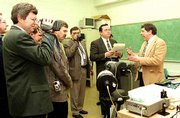 "In the Soviet Socialist Republic, Russia was the biggest laboratory in the world," said Victor Korotkov, manager of a cellular communications company in Moscow. "Now its laboratory is crushed destroyed."
The businessmen will be in the Kansas City area for three weeks, touring such companies as Sprint, VoiceStream Wireless and Lucent Technologies. Their visit is sponsored by the San Francisco-based Center for Citizenship Initiatives, which aims to strengthen the economy of newly democratic Russia.
On Friday, they toured KU's Information and Telecommunication Technology Center, which partners with government agencies and companies to conduct research. Research topics include networking, wireless communication, software development and radar systems.
With the booming technology industry, Technology Center director Victor Frost said that he is giving more speeches and tours to international groups.
"It's part of the university's role with an international flavor," Frost said. "They're a group of fairly high-level folks from Russia who want an understanding of the research enterprises we have here."
The Russian businessmen also heard a presentation from Andrew Townsend Peterson, an associate professor of ecology and evolutionary biology and a curator at KU's Natural History Museum. He spoke about biodiversity and the use of technology to track animal species.
The men also toured the networking telecommunications department, which provides telephone, video and data networking for KU.
Leonid Toder, who directs a company that develops, installs and maintains telecommunications systems, said he came to the United States to find ways to expand his business. He said the technology center could be a model for Russian re-searchers to follow.
"I think the most interesting part is the collaboration of systems of the educational entity and business/commercial structures," he said through an interpreter. "It is just starting (in Russia), and that's why it is interesting what you can achieve by partnering. We see the proof here that the collaboration can be successful."
Copyright 2018 The Lawrence Journal-World. All rights reserved. This material may not be published, broadcast, rewritten or redistributed. We strive to uphold our values for every story published.