Sunrise, Fla. — It's not often a goalie can allow six scores and smile about it. But Columbus' Ron Tugnutt yielded one less than Florida's Trevor Kidd as the Blue Jackets defeated the Panthers, 7-6, in an old-fashioned shootout Friday night.
Robert Kron scored on a short-handed breakaway 43 seconds into overtime to give Columbus its fourth win in five games. The loss extended Florida's winless streak to nine games (0-5-2-2).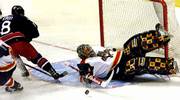 "I think Trevor and I will have a tough time sleeping tonight," Tugnutt said. "It was nice to play that bad and still win."
Kidd allowed some long-range goals and was under pressure most of the night.
"Those goals they scored were just monsters from above the circle," Kidd said. "This game is a tough pill to swallow. We were up 4-2 and on cruise control.
"The five goals we gave up were just unacceptable. To say we were on our heels is an understatement."
Columbus defenseman Deron Quint scored his first career hat trick.
"It's a long five years for me," said Quint, "and to get this out of the way is a great accomplishment. We got a lucky break when Kronner (Kron) went down the ice and scored."
It was Kron's first goal in six games.
"I was due, but even with that I had many chances during the game," Kron said. "I was lucky at the end. It was bad ice and I almost had to kick it in. The puck just wouldn't settle down."
Florida rookie Joey Tetarenko scored his first two NHL goals. Marcus Nilson also scored two goals for Florida and had one assist.
"It was especially disappointing for Joey to score the first goals of his career and we can't win," Nilson said. "We gave up three goals in five minutes. It's brutal."
Bruce Gardiner tied the score 6-6 at 14:46 of the third period when he beat goalie Trevor Kidd from the low slot. The tying goal came just 34 seconds after Victor Kozlov's back-handed pass from the top left of the crease bounced off Columbus defenseman Jamie Heward's stick and into the net to give Florida a 6-5 lead.
Mighty Ducks 3, Blackhawks 1
Anaheim, Calif. Oleg Tverdovsky scored the go-ahead goal and newly acquired Jeff Friesen set up two goals by Paul Kariya as Anaheim beat Chicago. Jean-Sebastien Giguere stopped 34 shots, including a breakaway by Steve Sullivan with 4:12 left, to help the Ducks win their third straight and equal their longest winning streak of the season.


Wild 4, Islanders 1
Uniondale, N.Y. Derek Gustafson stopped 22 shots in his NHL debut, nearly getting a shutout. Gustafson, called up from Cleveland (IHL) on Thursday after injuries to the Wild's main goaltenders, Manny Fernandez (knee) and Jamie McLennan (cold/flu), became the fourth goaltender to start for the Wild. Zak Bierk started Thursday night's 6-2 loss in New Jersey. Jason Blake ruined Gustafson's shutout bid with 1:57 left on a tip-in for the only Islanders goal. Minnesota's goals came from Jim Dowd, Filip Kuba, Cam Stewart and Stacy Roest. The Wild swept the season series against the Islanders.
Oilers 4, Sabres 0
Buffalo, N.Y. Tommy Salo stopped 28 shots for his second straight shutout as Edmonton won its seventh consecutive game. Todd Marchant, Tom Poti and Georges Laraque scored 12 minutes apart in the second period for Edmonton, enjoying its best stretch since March 1987 when Wayne Gretzky, Mark Messier and Grant Fuhr led the then-high-flying Oilers to seven successive victories. Laraque also scored in the third period, while Rem Murray set up three goals. Edmonton improved to 4-0-1 in its last five meetings with the Sabres.
Capitals 5, Rangers 3
Washington Peter Bondra's third hat trick of the season, including back-to-back goals 26 seconds apart in the third period, broke open a tight game as Washington beat New York. Two of Bondra's goals were one-timers on power plays. The other came on a 4-on-4 situation in which he outraced Brian Leetch down the right wing and put in the puck with a remarkable reflex second-effort after goaltender Guy Hebert stopped the first shot.
Copyright 2018 The Associated Press. All rights reserved. This material may not be published, broadcast, rewritten or redistributed. We strive to uphold our values for every story published.