Pearl Harbor, Hawaii — Navy admirals watched a computerized simulation Friday of the periscope search conducted before a U.S. submarine struck and sank a Japanese fishing vessel.
The video showed how easy it would have been for USS Greeneville Cmdr. Scott Waddle and another officer to miss the boat in choppy seas and overcast skies with only 80 seconds devoted to the search.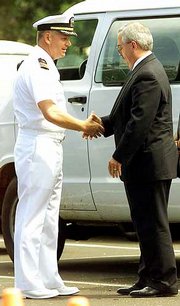 It also showed how the 180-foot ship would have been clearly visible had Waddle conducted a standard three-minute search at a higher power and depth.
Vice Adm. John Nathman, who is presiding over a Navy court of inquiry into the collision, said the court would not draw sweeping conclusions based on the re-enactment. Nine died in the accident.
"There's nothing absolute about this," he said. "This is a way of finding out what we can diverge from."
Navy Capt. Thomas Kyle, who assisted the National Transportation Safety Board in its investigation, said the simulations factored in the depth of the submarine, the length of the periscope search, the weather conditions the day of the accident and the size of the Ehime Maru.
Copyright 2018 The Associated Press. All rights reserved. This material may not be published, broadcast, rewritten or redistributed. We strive to uphold our values for every story published.