Pittsburgh — His scowling face and bright green tongue have been warning children away from dangerous chemicals and poisons for 30 years, and he could be at it nationwide before long.
With National Poison Prevention Month under way, the creators of Mr. Yuk are celebrating three decades of what is already one of the country's best-known poison control mascots.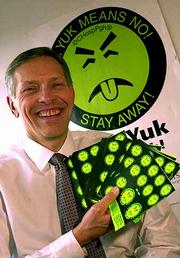 Later this year, the American Association of Poison Control Centers plans to choose a national symbol for poison prevention, and two versions of Mr. Yuk are among 86 logos in the running.
"We think he has a good shot," said Edward Krenzelok, director of the Pittsburgh Poison Center at Children's Hospital, where Mr. Yuk was born in 1971. "We figure that if you want a symbol recognized by 100 percent of the population, you could do pretty well to pick one that half the people already know."
Parents place stickers of the bright-green face on household poisons such as drain cleaners and furniture polish to warn young children away. The stickers include phone numbers of the nearest poison control centers in case of emergency.
Mr. Yuk can already be found in 30 states and on military bases around the world, and his face is used as far away as Iceland, Saipan and Liverpool, England. Children's Hospital distributed 42 million Mr. Yuk stickers in the last year alone.
When the poison control movement started in 1953 with the nation's first poison center in Chicago it lacked a symbol.
"In 1971, there was really no symbol out there, besides the skull and crossbones," Krenzelok said Thursday.
Experts worried that some children would think the skull was cool, so several new ideas were tested at Pittsburgh day-care centers among young children. One child, seeing the round green face with its tongue out, remarked: "Oooh, that's yucky." The name stuck.
Mr. Yuk has since outlasted other poison-busting mascots, including Officer Ugg, Deputy Don't and Nosiop, the snake whose name is "poison" spelled backward.
At the Hennepin Regional Poison Center in Minneapolis, some 200,000 Mr. Yuk stickers are passed out every year.
"Adults come by our health fairs and tell us they remember seeing him as a kid," said Debbie Anderson, the center's director. "The scowling face makes people think of the poison center."
Not everyone is enamored by the scowling Mr. Yuk, however. Gaylord Lopez, director of the Georgia Poison Center in Atlanta, cited the same concerns expressed about the skull.
"It might even be more attractive for the fact that it's brightly colored," Lopez said.
Copyright 2018 The Associated Press. All rights reserved. This material may not be published, broadcast, rewritten or redistributed. We strive to uphold our values for every story published.