Amit Guha's employees attended Kansas University, learned about computers at Kansas University and cheer during sporting events at Kansas University.
No wonder they're excited about working on a proposal for a new ticket-processing system and a logistical plan for matching donor amounts with seat assignments for the Kansas University Athletic Department.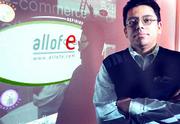 "We'd actually be doing a new ticketing system for them and fund-raising system for them," said Guha, co-founder and chief executive officer for AllofE Solutions, 2500 W. Sixth St. "It would tell you, 'Here is the stadium,' or 'Here is (Allen) Fieldhouse, and this is what's available ... '
"We're very confident. It's a big part of our business model leveraging the KU connection."
While the contract is by no means a slam dunk AllofE is among several companies talking to KU about such a system, Guha said the Lawrence-based operation is looking to secure the inside track.
Each of AllofE's 20 employees has KU connections, and that's by design.
Guha, a lecturer in the School of Business, counts on the university's high-tech graduates for supplying the brain power and creative energy to build AllofE into a national company for supplying e-business systems during the next few years.
He hopes to follow the example set by Michael Dell, who started his computer company as a student at the University of Texas and soon built it into an industry powerhouse in Austin.
"We've got big plans, but it's very important for us to be headquartered here," said Guha, who wants to open offices in Wichita and the Kansas City area. "This puts us in the best position to take care of our most important need, and that's our people."
Founded in October 1999, AllofE generated revenues of $450,000 last year by selling its business-to-business and other Web-based products and services to companies that include or serve Black & Veatch, Deloitte & Touche, Applebee's, Kemper Funds, DST Systems and the Kansas Department of Revenue.
The company already has secured deals this year worth $300,000, putting it on track for $1 million in 2001, Guha said. A deal with the Kansas University Athletic Department could be worth $200,000.
The growth also means hiring more computer scientists, engineers, programmers, graphic designers, Web developers and e-business analysts. Guha expects to hire 10 more employees this year.
Jason Brown, who handles AllofE's business development activities, said he didn't expect the so-called "dot-com slowdown" to affect the company significantly.
"Every company is going to have to have some Web initiative, at some point," said Brown, who played football at KU. "Companies are still spending, and there's still business out there."
Copyright 2018 The Lawrence Journal-World. All rights reserved. This material may not be published, broadcast, rewritten or redistributed. We strive to uphold our values for every story published.