Leave it to one shooter to help another snap a slump.
Former Jayhawk sharpshooter Jerod Haase, now a KU administrative assistant, had some words of wisdom for current Jayhawk Jeff Boschee after Thursday night's practice at Allen Fieldhouse.
"Jerod grabbed me and said, 'How many three-pointers have you had blocked this year?' I said, 'None,''' Boschee said. "He said, 'Then why rush your shot? Take your time. They will not block your shot.' I was thinking about it on the way to the locker room after practice and took it to heart today."
Boschee, who had hit eight of 42 threes over the last seven games, iced five of six threes and scored a season-high 23 points in KU's 94-63 victory over Kansas State in Friday's Big 12 tournament quarterfinals at Kemper Arena.
Boschee, who shot on his own for half an hour after practices Wednesday and Thursday, also was energized playing Kansas State in Kemper.
A year ago, he hit seven threes in the first half en route to 21 points in a first-round rout of the Wildcats at Kemper.
His career high, 24 points, came during the 1999-2000 regular season against KSU that time at Manhattan.
"I don't know what it is, maybe coincidence or whatever," Boschee said. "It just happened to come against K-State. I do like this building. I do shoot it well at times here."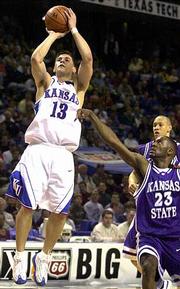 Boschee, who passed the 1,000-point mark in career scoring, will get another chance to play in Kemper today. The Jayhawks will meet Oklahoma at 3:20 p.m. today in the semifinals. The other semifinal between Texas and Baylor will tip off at 1 p.m.
The Jayhawks had no problems in their quarterfinal, using a 25-2 run to open a 37-13 lead with 3:50 left in the first half.
Part of the reason for the blowout may have been the fact top-seeded Iowa State fell to Baylor in the noon game Friday.
Second-seeded KU (24-5) didn't want to travel the same road as the Cyclones.
"I think coach sensed we were a little loose on the bus," center Eric Chenowith said after scoring six points with seven boards in 16 foul-plagued minutes. "He said we had to come to play and used that game as an example and not to let it happen to us."
Drew Gooden and Nick Collison led the big-man contingent with 21 and 11 points, respectively, as KU cruised to its 22nd straight victory over KSU.
"Your seed doesn't matter when you tip it up," Gooden said. "When the ref throws it up, it's another basketball game. You see what happened in the Baylor-Iowa State game."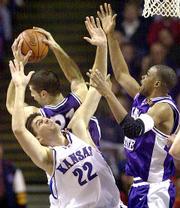 KU's 94 points tied for the most ever scored by KU against KSU, tying the mark set last year in Manhattan.
"The situation with Iowa State told us what we needed to do. It doesn't matter what has happened before. It matters now. The last three months don't affect today," Williams said.
"I feel good about the win to say the least," added Williams, noting five players had tests on Friday, delaying the Jayhawks' arrival in KC until noon.
"We had certain spurts where we played really well. Going into the half with a 20-point margin (41-21), I challenged them to keep playing in the second half. The whole package is something I feel good about."
KU hit 43.5 percent of its shots, including seven of 13 threes. The Jayhawks canned 27 of 32 free throws. KSU hit 28.8 percent for the game, just 21.9 percent the first half.
KU had strong inside-out play with Gooden scoring eight straight in that back-breaking 24-2 run.
"Everything was clicking," Gooden said. "They missed a lot of shots and were not up to par on offense. We had fun tonight. At the end of the game we were cracking jokes on the bench with everybody getting to play. It was a good atmosphere."
Copyright 2018 The Lawrence Journal-World. All rights reserved. This material may not be published, broadcast, rewritten or redistributed. We strive to uphold our values for every story published.