The fire that gutted the Total Fitness Athletic Center earlier this week was started by a heater inside one of the sauna rooms, officials said Friday, a cause similar to the one that led to the fire at another health club two years ago.
The blaze, which began shortly before 1 a.m. Monday, started in a heating unit in a men's sauna, located in the southwest corner of the building at 925 Iowa. Burn patterns in the rubble, along with evidence collected by fire investigators, led to Friday's conclusion, officials said.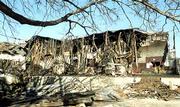 "We looked at the patterns and the level of destruction there," said Rich Barr, Lawrence-Douglas County Fire & Medical fire marshal. "We combed through what was left and saved every little piece of electrical or mechanical debris we could find so we could lay it out and come to a conclusion."
The free-standing heater was about 2 feet long, 18 inches high and about a foot deep, Barr said. It had been placed in the corner of the sauna.
Through employee and customer interviews, investigators learned that people had reported excessive heat coming from the sauna for several days leading up to the fire. Some even characterized the sauna as "typically very hot," even to the point that users had to wait until it cooled down before entering it, Barr said.
The investigation was hampered initially because Total Fitness' roof had collapsed onto the main area of damage, Barr said. Construction workers, using cranes and other heavy machinery, removed the collapsed sections of the roof and parts of the south and west walls.
The structural damage estimate remained about $350,000, but property damage hadn't been determined on Friday, Barr said. Representatives from the business's insurance company were inspecting damage, he said.
Monday's fire cause resembled that of another workout facility, the Lawrence Athletic Club, which burned on Feb. 4, 1999.
That fire, which caused about $1.5 million in damage, was caused by an electrical contactor on a sauna, said Rick Sells, club owner.
An electrical contactor controls the sauna's thermostat. When the one at LAC malfunctioned it allowed the temperature to continue to rise. But the LAC fire and Monday's blaze probably weren't related, Sells said.
"It's really just a coincidence," he said. "It's really just one of those things. It could have been light switches. Saunas are a hot area to begin with, and it just happens that's where it occurred."
Mike Cameron, spokesman for the Kansas State Fire Marshal's office, said that last year there were three health club fires in Kansas. Two in Atchison County and Salina were minor, but one in Sedgwick County caused about $150,000 in damage.
"I don't think they're really at any more risk than other structures," Cameron said. "Saunas do get pretty hot, but if you make sure that things are maintained, you should be OK. At a busy club, equipment gets a lot of continual use, but there shouldn't be too much worry if everything is in working order."
Copyright 2018 The Lawrence Journal-World. All rights reserved. This material may not be published, broadcast, rewritten or redistributed. We strive to uphold our values for every story published.