Sad. Unfortunate. Equality gone awry.
Those were just a few of the terms that Kansas University fans and graduates were using Friday at the Big 12 basketball tournament to describe the demise of the men's swimming and diving and tennis teams.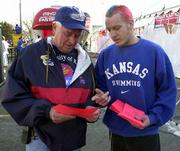 "I think it's unfortunate to give up two sports where there is a lot of competition," said Chad Lippelgoos, a 1992 KU graduate from Wichita. "Unfortunately, equality seems to be bringing down the men when it's the men's sports that have always brought in the revenue."
KU offers 11 varsity sports for women and eight for men. There still are more men than women on athletic scholarship, however, and KU Athletics Corp. officials have stated that their commitment to gender equity will not allow them to touch any of the women's programs.
Lippelgoos and other KU fans outside Kemper Arena received fliers urging support for continuing the teams. Some of the fliers were handed out by members of the women's and men's swim teams near the KU Alumni Association booth inside the Golden Ox Shoot Out and Fan Festival tent.
The fliers also urged people to call, e-mail or fax their support for the sports to Chancellor Robert Hemenway, athletics director Bob Frederick and the Kansas Board of Regents.
Distribution of the fliers was the first part of a two-day protest against a decision announced nearly a week ago to end men's competition in the two sports because of budget problems. At 9:15 a.m. today team supporters are meeting at Robinson Center for a march to Hemenway's house.
Most of the people receiving the fliers expressed support for continuation of the sports, swim team member Dustin Chalfant said.
"They think it's a bunch of crap," the 19-year-old Topeka freshman said. "We're trying to get the word out as best we can and try to save the program."
Also handing out fliers was Tamara Pace, 20, a junior on the women's swim team.
"This is just a horrible thing," she said. "They (KU officials) didn't give them any time to do anything."
"I think it's very sad," Scott Hamele, a 1991 KU graduate from Lenexa, said. "I would think they would be able to work something out. Leave it up to the individual teams to raise some money so that they can continue."
Copyright 2018 The Lawrence Journal-World. All rights reserved. This material may not be published, broadcast, rewritten or redistributed. We strive to uphold our values for every story published.