Eating disorders take a toll on your body, your mind and your spirit. Whether it's anorexia, bulimia or binge eating, abusing food can lead to serious health problems.
Ed Bloch and Jena Leuenberger are no strangers to these disorders. The two business partners have counseled patients with eating disorders for the past 10 years in California.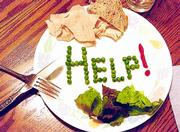 They are also engaged, and have overcome an eating disorder in their own relationship. Ten years ago, Leuenberger was a binge eater who used exercise to purge. She enrolled in a therapy class to overcome the disorder, and now helps others in need.
Bloch and Leuenberger recently moved to Lawrence and founded the Life Enrichment Center, 1311 Wakarusa Drive, the city's first outpatient clinic for people with eating disorders.
"This is so prevalent in our society at a lot of different levels, and it's not just the one who's throwing up 20 times a day, or who's near death," Bloch said. "There are millions of young women who are engaged in these behaviors. It's affecting their lives and it's only the beginning of the disease for them."
Losing touch
Leuenberger said a disorder can start small, with a simple diet, and build to life-altering behaviors. Today's society has everything to do with the prevalence of eating disorders, she said.
"Everything is so externalized, and the more women get into dieting that's where they start losing themselves, losing touch with their bodies," Leuenberger said. "A diet is some external rule. It's not telling you when you're hungry. It's saying 'eat this when' so we stop trusting our bodies and start trusting this menu item that has no life."
Bloch, a licensed clinical social worker, says 1 percent of females have anorexia while 4 percent suffer from bulimia.
"The prevalence of it here is much greater than I think Kansans would ever believe," he said. "There's a lot of shame related to the behavior, so they don't talk about it."
Young women are especially vulnerable. Bloch estimates between 15 percent and 20 percent of women on college campuses have an eating disorder.
"The incidence is rising all the time and the prevalence is greater every year," he said.
The Life Enrichment Center is offering a four-part series on "How to Become an Intuitive Eater."Ed Bloch and Jena Leuenberger will share skills and tools needed to overcome conditioning and return to a healthy and natural relationship with food.Workshops will be presented from 11 a.m. to 1 p.m. on four Saturdays March 17, 24, 31 and April 7 at the downtown Topeka YMCA, 421 Van Buren. Child care is available.For more information, contact Bloch or Leuenberger at 842-2752, (785) 248-3392 or lifeenrichment@sunflower.com.
However, women are not the only victims that fall prey to restricting food, overeating and binging. Men are also affected particularly male athletes.
"It's chronic in many different sports," he said. "What we have are people trying to achieve an unnatural body shape and size, and the only way to do that or get close to that is through unnatural means."
Bloch said power and unrealistic expectations typically lead men to an eating disorder, while emotional issues are often the reason why women seek food for comfort.
"It's really just another drug of choice, and it's more likely that women will use it simply because it's more available," he said.
Gaining control
Unfortunately, the more a person resorts to his or her disorder, the more difficult it becomes to let go of it.
"Their frame of mind is altered," Bloch said. "As long as people keep buying into these notions, it'll keep getting worse."
Leuenberger compares the body to a wood-burning stove: It takes just the right amount of fuel or food to keep the fire burning.
"You need to add logs every three or four hours in order to keep it burning efficiently," she said. "If you don't put enough logs on it, the fire will go out, just like your metabolism will go down. If you put too many logs on it, it will also burn less efficiently."
Both agree dieting is the wrong direction for anyone who is struggling with food. Bloch says more dieting equals less control.
"It's not a mere coincidence that we have more diet aids, more fat-free foods, more sugar-free foods, more diet foods than ever before and we have more obesity," he said. "The fact is that none of those things help us in terms of our weight management."
Bloch and Leuenberger hope the Life Enrichment Center will help patients end their food struggles.
"In the long run, an eating disorder is nothing but tragedy," Bloch said. "I don't know anyone who's had an eating disorder that wouldn't look back on the period of time that they suffered with it and say that it was the worst period of their lives."
Copyright 2018 The Lawrence Journal-World. All rights reserved. This material may not be published, broadcast, rewritten or redistributed. We strive to uphold our values for every story published.