Kiev, Ukraine — The death toll in intense flooding in western Ukraine rose, while thousands of troops and residents in neighboring Hungary raced to pile up sandbags to protect sodden villages from further onslaughts of water.
Residents described being afraid to go to sleep for fear of overnight inundations, and huddling on rooftops awaiting rescue as mud-brown torrents swirled below. At least 20,000 houses were flooded in at least 200 submerged villages in western Ukraine and northeastern Hungary.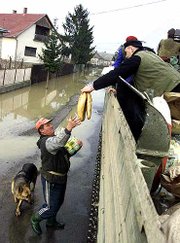 More than 35,600 people have been evacuated from Ukraine's Zakarpattia region since Tuesday because of heavy rains and melting snow that have overflowed rivers and burst dikes around the Carpathian Mountains, the Emergency Situations Ministry said.
The ministry said Thursday that two more bodies had been discovered, raising the flood's death toll to five.
More than 30 miles of highway and about five miles of railway were destroyed in the Ukrainian part of the flooded area, where workers used about 437,600 sand bags sent from neighboring regions.
Copyright 2018 The Associated Press. All rights reserved. This material may not be published, broadcast, rewritten or redistributed. We strive to uphold our values for every story published.