Kansas City, Mo — There should be plenty of tickets available for the last two days of the Big 12 tournament, and they'll probably go cheap.
About 12,000 Iowa State fans who flocked to Kansas City expecting to see their No. 7 Cyclones romp to their second straight tourney title will likely be heading home early.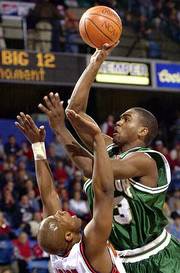 Big 12 player of the year Jamaal Tinsley scored just eight points before fouling out, and the Cyclones (25-5) shot 31 percent Friday as Baylor stunned the two-time defending regular-season champions 62-49 in the quarterfinals.
"I apologize to our fans," said Iowa State's Larry Eustachy, the Big 12 coach of the year. "Money is tight and a lot of them made the drive down here."
Now the question for the Cyclones and their fans is whether they will get to come back to Kemper Arena for the opening weekend of the NCAA tournament. Losing to eighth-seeded Baylor (19-10) could end Iowa State's hopes of being a No. 1 or 2 seed in the Midwest Regional and getting assigned to Kansas City.
"I don't know about that," Eustachy said. "I would hope they would look at the entire season and not just 40 minutes."
ISU had twice as many turnovers (16) as field goals (eight) in a sloppy first half and missed their first six shots of the second half.
Baylor a 21-point loser to Iowa State in January led by 10 points at halftime and never let the favored Cyclones get closer than eight.
Tinsley fouled out with about five minutes left, effectively ending any hope of an Iowa State comeback.
"They didn't do anything we didn't expect, anything we weren't prepared for," the 6-foot-3 point guard said. "They just wanted it more than we did."
DeMarcus Minor, who had 30 points in Baylor's first-round victory over Colorado, scored 23 points as the Cyclones became the first No. 1 seed in the Big 12 tourney to lose its first game. Making Baylor's victory seem even more unlikely, All-Big 12 guard Terry Black was 0-for-8 and scored just one point for the Bears.
"That really in a way just boosts our confidence," Baylor's Chad Elsey said. "Terry's a great player, and for us to be able to beat a team like Iowa State when he's not having one of his typical games means a lot."
Greg Davis had 10 points for Baylor, while Jake Sullivan and Tyray Pearson each had 10 for Iowa State.
Copyright 2018 The Associated Press. All rights reserved. This material may not be published, broadcast, rewritten or redistributed. We strive to uphold our values for every story published.