Washington — Is it time for Vice President Dick Cheney to lighten his workload? Not if you listen to Dick Cheney.
"I've been living this way for 25 years," he told an aide this week after he underwent surgery to reopen a narrowed artery. "I've been dealing with this for decades."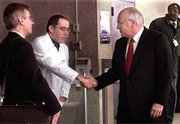 Despite chronic heart disease and four heart attacks, Cheney says he has no desire to slow down.
"He was dismissive" about the idea, said Mary Matalin, the aide who raised it with him.
Doctors warn that on-the-job stress can make a heart condition worse, but the vice president doesn't think his job is all that stressful, Matalin added.
Cheney left George Washington University Medical Center on Tuesday, one day after surgeons threaded a catheter into an artery near his heart and inflated a tiny balloon to open it up.
The 25th Amendment provides that when the vice presidency becomes vacant the president shall appoint a successor, subject to majority approval by both houses of Congress. (As a result of 15 deaths and three resignations of presidents and vice presidents, the office has been vacant about 37 years in all.)That clause of the 25th Amendment last became relevant in 1973 and 1974. After Vice President Spiro Agnew pleaded no contest to a charge of income tax evasion and resigned, Nixon nominated Congressman Gerald Ford to succeed him. After a thorough and relatively nonpartisan investigation, Congress approved Ford. Eight months later, Nixon's public career collapsed under the weight of the Watergate scandal, and he resigned. Ford succeeded him as president and nominated Nelson Rockefeller to be vice president. After an inquiry that consumed four months, Congress approved Rockefeller.
His doctors said there was a 40 percent chance that the narrowing problem could recur, but added that there is "a very high probability" that he can complete his four-year term.
Aides said Cheney may return to work in the White House as early as today. President Bush told reporters that he doesn't think Cheney should cut back on his workload, either. "He shouldn't ... because he's needed," Bush said during a visit to Chicago. "This country needs his wisdom and judgment."
Cheney, 60, is already one of the most powerful vice presidents in modern history. A former White House chief of staff and secretary of defense, he ran the new administration's transition operation and was a major voice in the selection of cabinet members.
Matalin said Cheney is "pacing himself" and has shown no sign of stress in the job.
She said the vice president arrives at work at about 7 a.m. and tries to leave between 6 and 7 p.m., a schedule typical for much of official Washington. Cheney and his wife, Lynne Cheney, often attend political or social events in the evening, as well.
Since his fourth heart attack last November, she noted, Cheney has gone on a diet, started an exercise program and lost weight.
Copyright 2018 The Lawrence Journal-World. All rights reserved. This material may not be published, broadcast, rewritten or redistributed. We strive to uphold our values for every story published.