Topeka — Though he pleaded guilty to stealing nearly $63,000 from the Kansas Lottery, Richard Lee Knowlton won't be spending time in a state prison.
Instead, Shawnee County District Court Judge Marla Luckert on Monday ordered the 56-year-old Knowlton to spend 55 days in the county jail between now and March 2003. And for the next six months, he's to be under house arrest when he's not in jail.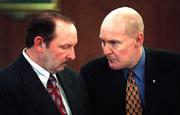 He also must pay a $25,000 fine, perform 200 hours of community service, and have no contact with anyone who works for the lottery. And he is barred from unsupervised or at-home access to a computer.
Knowlton's sentence also includes being on supervised probation for three years.
Assistant Atty. Gen. Stephen Maxwell praised the sentence, saying it "sent a message" to Knowlton, who had worked at the lottery for eight years.
"Whether he has learned his lesson is up to him," Maxwell said.
Before pleading guilty last month, Knowlton was accused of using his access to the lottery computer system to turn 139 losing tickets into winners. Most were for $500 or less.
Knowlton had been charged with multiple counts of felony theft, computer crime and official misconduct.
Maxwell called Knowlton's actions "greedy, self-serving and just plain criminal."
But Knowlton's attorney, William "Billy" Rork, Topeka, quickly noted his client has paid back the $62,932 he was accused of stealing and has fully cooperated with investigators.
"He's learned his lesson, your honor," Rork said, noting that Knowlton had borrowed and is expected to pay back most of the $62,932.
During the 45-minute hearing, Knowlton apologized for the trouble he'd caused the lottery and for the pain and suffering he'd caused his family and friends.
"I truly am sorry for my actions," he said.
Lottery executive director Ed Van Petten was in no mood to forgive.
"A thief is a thief is a thief," he said during the part of the hearing set aside for victim testimony. "A thief is fueled by greed and a total disregard for the consequences of his actions to others."
He added: "I have never before today seen Mr. Knowlton in person. However, I work on a daily basis with some of the victims of his malicious acts."
According to Van Petten, Knowlton's actions cost some lottery worker their jobs. Others, he said, were "sickened" and "humiliated" by Knowlton's early claims that he had fixed only 12 tickets as part of that personal crusade to expose lax security at the lottery. Knowlton later recanted his claims .
Van Petten later declined to identify the workers who had lost their jobs.
"That's a personnel issue, I can't comment," he said.
Among those fired after Knowlton's arrest were Lottery Director Greg Ziemak and Director of Administration Kevin Scott. Lottery officials have never acknowledged they were let go because of Knowlton's actions.
Van Petten also lashed out at the media for reporting Knowlton's claims.
"Unfortunately, (Knowlton) found that some people, including some irresponsible members of the media, were on a feeding frenzy of filth and did not care to verify accuracy," he said.
Van Petten declined to say which members of the media he considered irresponsible.
"It came from everywhere," he said.
Van Petten insisted the lottery's computer system was and remains secure, though Knowlton's thefts went undetected for almost 18 months.
Copyright 2018 The Lawrence Journal-World. All rights reserved. This material may not be published, broadcast, rewritten or redistributed. We strive to uphold our values for every story published.