NEWPORT NEWS, VA. — President Bush dedicated a $4 billion aircraft carrier in honor of Ronald Reagan on Sunday and pledged to pursue the 40th president's desire to "patiently build the momentum of freedom" in every corner of the world.
In the wind and rain, Bush and his wife, Laura, flanked former first lady Nancy Reagan at a christening ceremony at Newport News Shipbuilding that was attended by hundreds of military personnel and their families.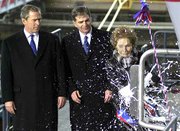 Bush praised Reagan for his commitment to building military strength, and promised to do the same in keeping with the former president's "vision of optimism, modesty and resolve."
"When we send her off to sea, it is certain the Ronald Reagan will meet with rough waters as well as smooth," Bush said. "But she will sail tall and strong like the man we have known. ... All of us here wish the ship Ronald Reagan godspeed. And we wish Ronald Reagan God's blessings."
With Bush and shipbuilder William P. Fricks standing by, Mrs. Reagan took a ribbon-laced champagne bottle in both hands and cracked it across a ship rail with one blow.
Mrs. Reagan, who also was celebrating her 49th wedding anniversary, stepped back a little to avoid the spray while Lee Greenwood sang "God Bless the USA." Bush and Fricks were not as lucky they were both splashed with champagne.
"I want to thank the Navy for giving us such a wonderful present. It's such a little thing," Mrs. Reagan joked about the massive ship. "I wish Ronnie were here. But somehow, I think he is."
The 90-year-old former president, who is battling Alzheimer's disease, was home in California recovering from a broken hip he suffered in a fall in January.
The Ronald Reagan is the ninth Nimitz-class carrier and the first christened for a living namesake. It is the next-to-last carrier in the Nimitz class; the last is to be christened in 2006. The Reagan will join the Navy fleet in 2003.
Even though the ship is not complete, Reagan's family and admirers said it still made a fitting gift for the Reagans' anniversary.
"The only problem is, I'm trying to figure out how to up it," joked son Michael Reagan.
He said of his father: "Every day that goes by, people become more aware of what he meant not only to the United States of America, but to the world."
Copyright 2018 The Associated Press. All rights reserved. This material may not be published, broadcast, rewritten or redistributed. We strive to uphold our values for every story published.